If you're looking for a healthy, family-friendly recipe that is both authentic and delicious, chicken cacciatore is the perfect choice. This classic Italian dish has been around for centuries and is made with simple ingredients such as garlic, onion, mushrooms, tomatoes, and white wine. Not only is it incredibly easy to make, but it's also full of flavor that your whole family will love.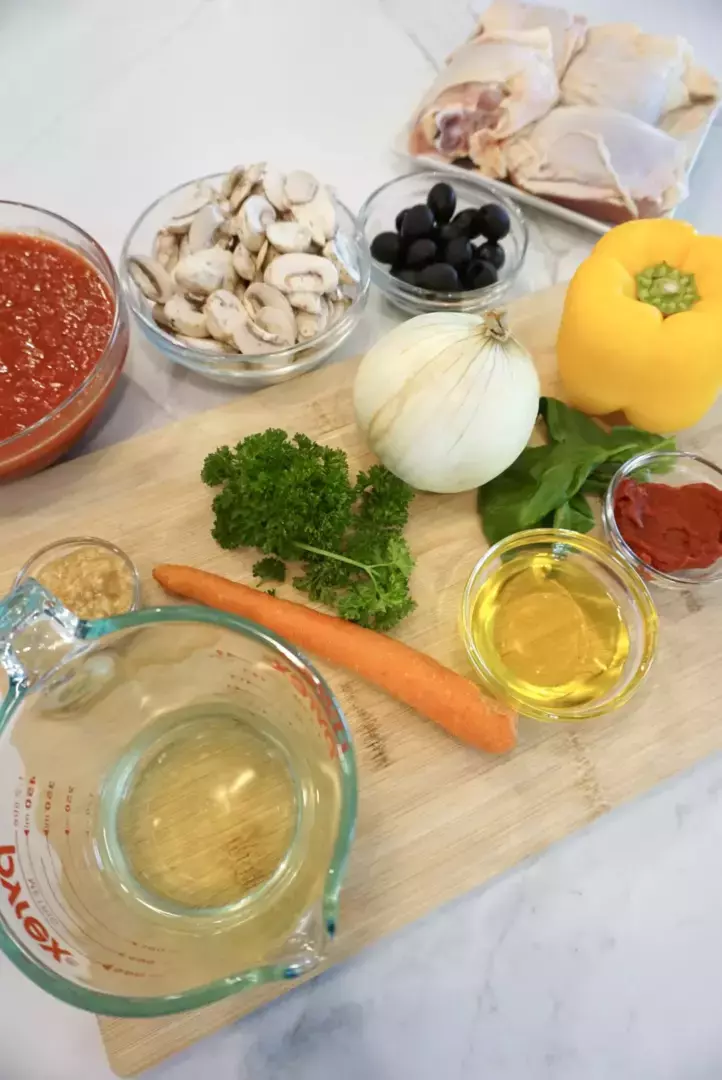 What Is Chicken Cacciatore?
Chicken Cacciatore is a classic Italian dish that has become popular all over the world. The name, derived from the Italian phrase "alla cacciatora," translates to "hunter-style" and reflects its hearty, rustic nature. Made with chicken simmered in a rich tomato sauce along with vegetables like peppers and onions, chicken cacciatore is an easy yet flavorful meal.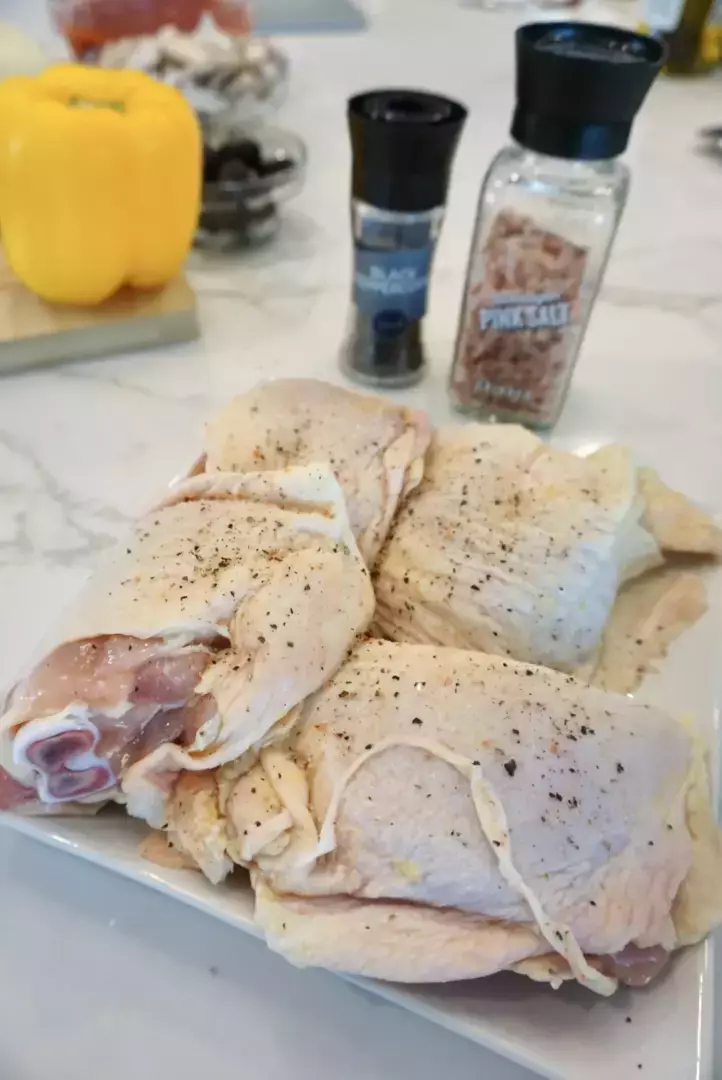 This dish comes together quickly but still manages to bring out the best flavors of each ingredient. Chicken thighs are typically used for their juiciness and intense flavor, while shallots or garlic add a hint of pungency to balance the sweetness of white wine or tomatoes. To create more depth of flavor, fresh and dried herbs such as basil or oregano are added to enhance the aromatic characteristics of this dish.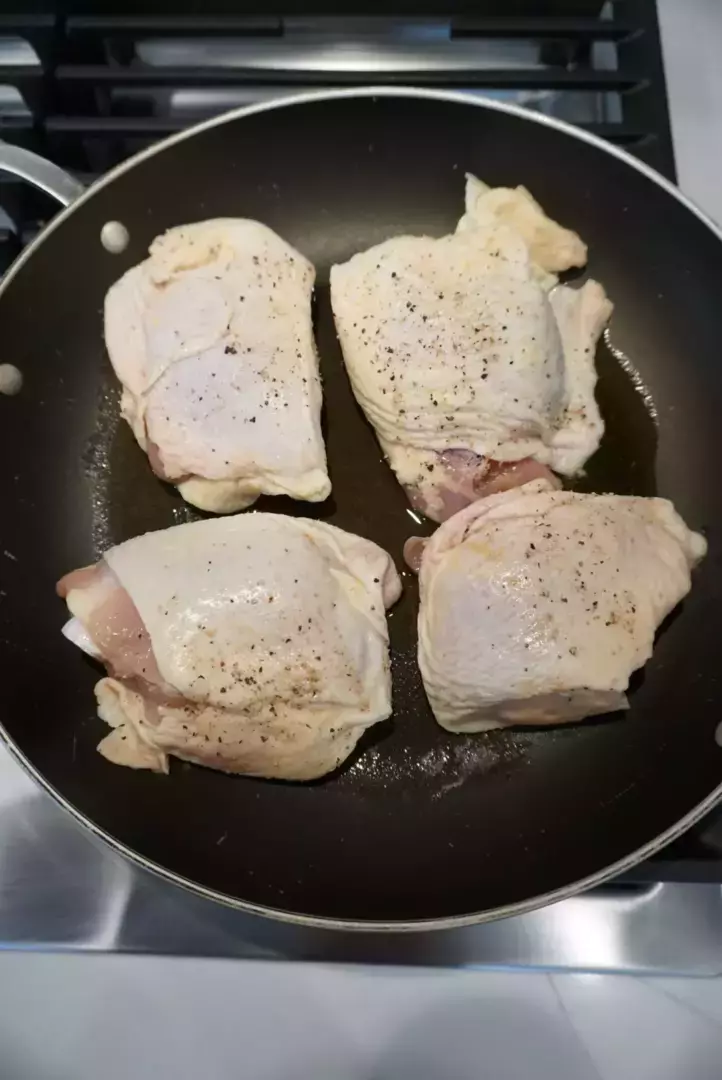 Perfect Pairings for Chicken Cacciatore
What is the best way to pair this delicious meal? Here are some of the best side dishes that go perfectly with chicken cacciatore.
For a classic Italian pairing, try serving your chicken cacciatore over a bed of tender spaghetti or ziti noodles. You can use gluten-free pasta to keep this dish free of gluten if necessary! This simple meal will be sure to please even picky eaters.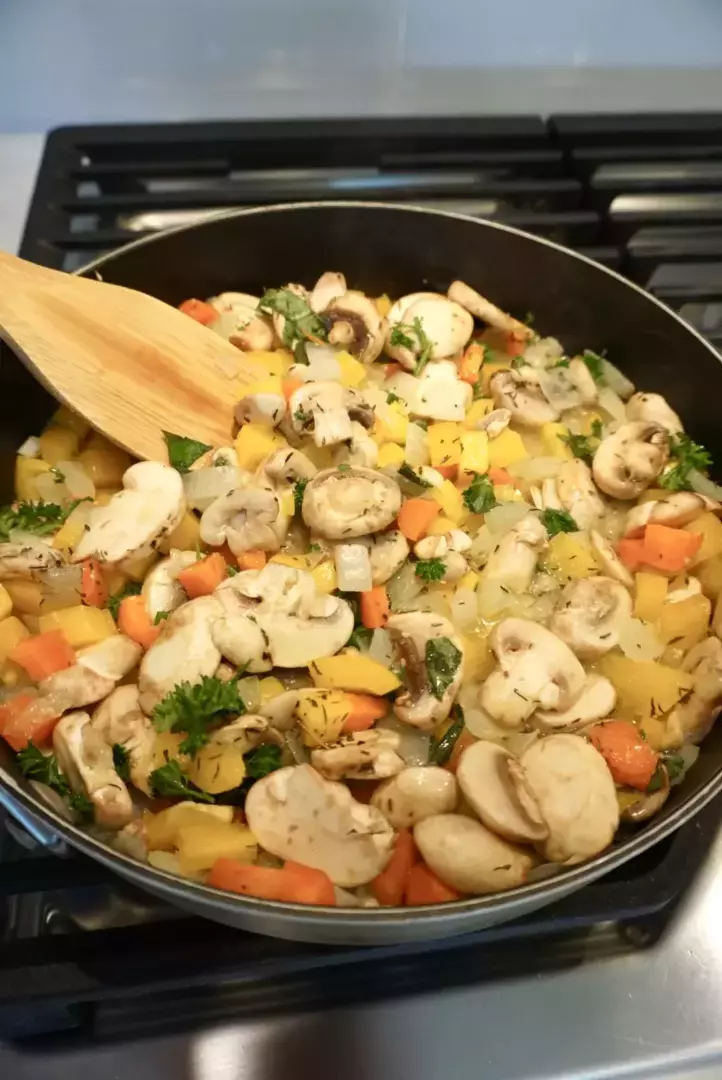 You can also serve it alongside a colorful salad made with fresh greens and diced tomatoes for a light yet flavorful side dish. For something more substantial, roasted potatoes are an excellent accompaniment to this hearty main course. Be sure to season them with olive oil and salt and pepper for maximum flavor!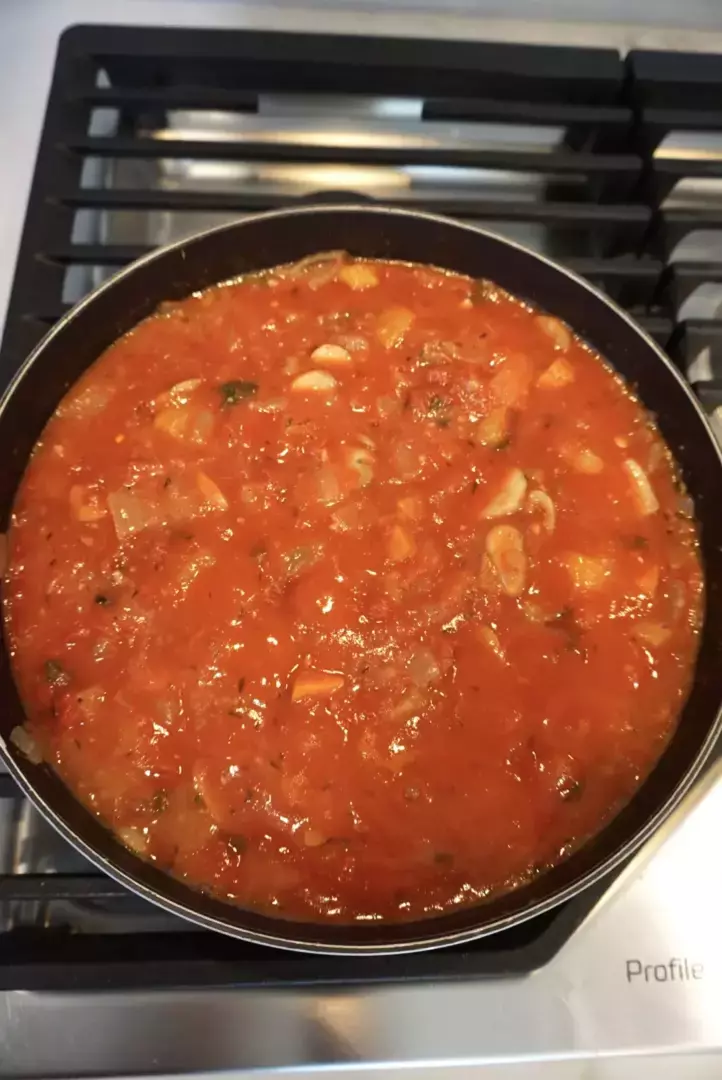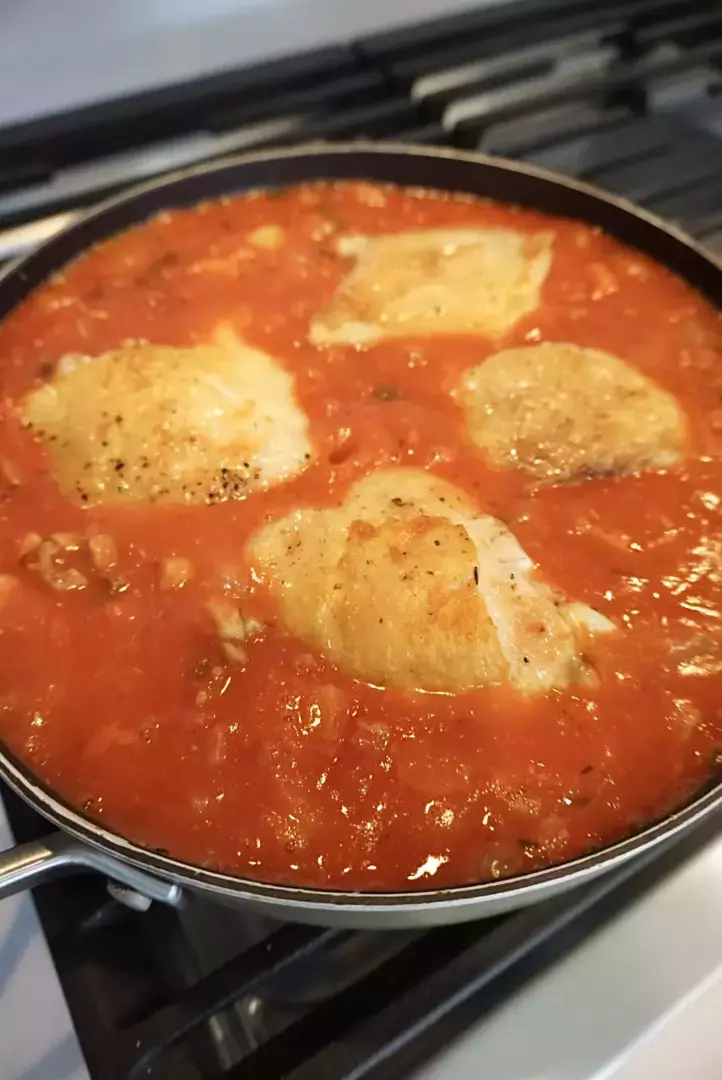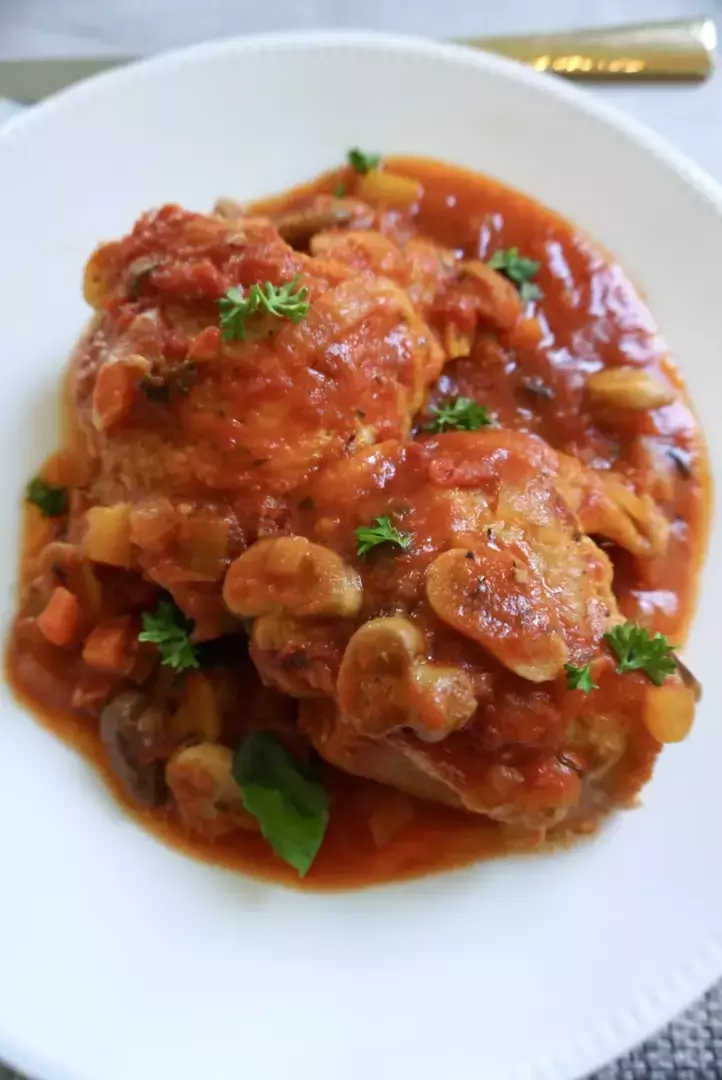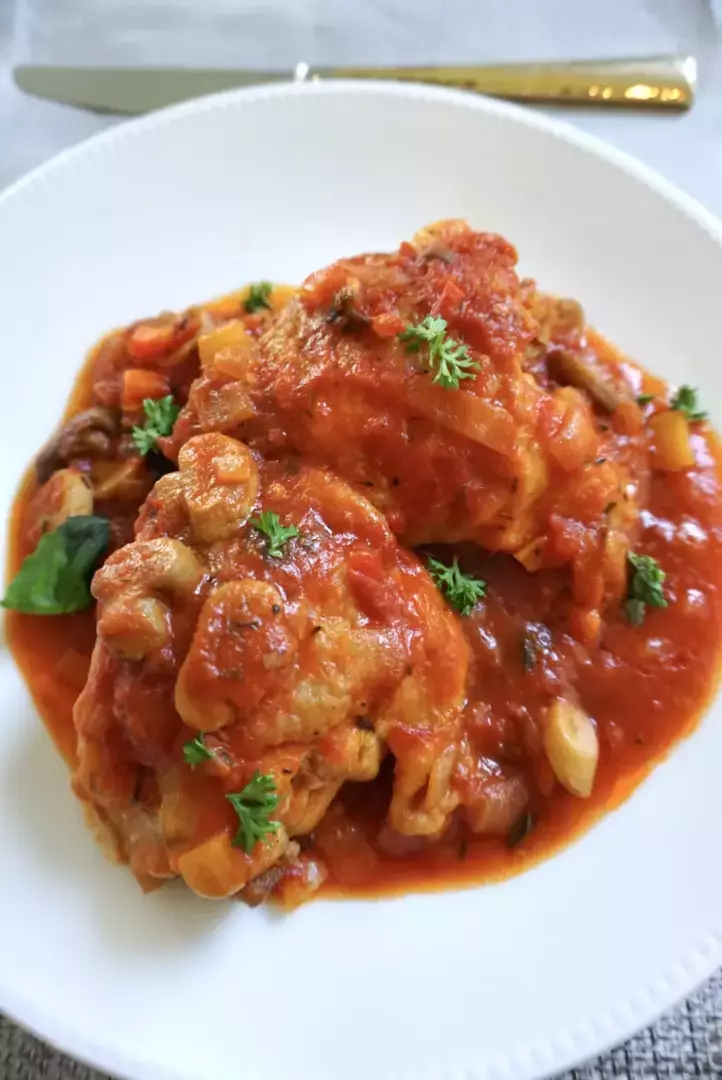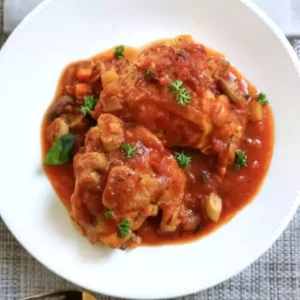 Chicken Cacciatore Recipe
Chicken cacciatore is a mouth-watering dish that is naturally gluten-free, nutritious, and healthy. This traditional Italian dish offers an array of flavors and can be easily adapted to fit any dietary needs or restrictions. The combination of the lean protein from the chicken, fiber from the vegetables, and healthy fats makes this meal a great option for those looking to eat healthier without sacrificing taste.
Ingredients
6

bone-in skin-on chicken thighs

28

oz

canned crushed tomatoes

2

tbsp

tomato paste

⅔

cup

white wine or chicken broth

4

tbsp

olive oil

-

divided

2

tbsp

minced garlic

1

yellow or sweet onion

-

diced

1

yellow bell pepper

-

diced

1

large carrot

-

peeled and diced

8

oz

mushrooms

-

sliced

½

cup

pitted black olives

2

tbsp

fresh parsley

-

chopped

2

tbsp

fresh basil

-

chopped

6

sprigs thyme

½

tsp

red pepper flakes

Salt and pepper

-

to season
Instructions
Season the chicken thighs with salt and pepper.

Heat 2 tablespoons of olive oil in a large skillet over medium-high heat. Cook chicken on both sides until golden, about 4-5 minutes on each side. Remove from skillet and set aside.

Add the remaining 2 tablespoons of olive oil to the pan. Sauté the onion for about 4 minutes, or until transparent. Add in the garlic and stir with the onions for about 30 seconds. Then, add the pepper, carrot, mushrooms, and fresh herbs. Cook for about 5 minutes, or until vegetables are slightly softened.

Pour the wine or chicken broth into the pan and scrape up any brown bits from the bottom of the skillet. Continue cooking until all the wine is reduced. This should take about 4-5 minutes.

Add the canned tomatoes, tomato paste, and chili flakes. Stir until combined.

Return the cooked chicken pieces to the pan and cover with a lid. Reduce the heat to low and allow the sauce to simmer for about 30 minutes, stirring occasionally. Add in the olives and simmer for an additional 10 minutes.

Serve immediately and enjoy!
Notes
Storage Instructions:
Storing chicken cacciatore correctly is the key to making sure that it tastes great when you reheat and serve it. The two main storage options are the refrigerator and freezer, each with its own best practices for keeping this classic Italian dish in top condition.
The best place to store chicken cacciatore is in the refrigerator. When storing your dish, cover it tightly with plastic wrap or a lid and allow it to cool to room temperature before placing it in the fridge or freezer. It's important to eat refrigerated chicken cacciatore within three days of cooking for optimal taste and safety reasons. Rewarm the dish on the stove over low-medium heat.
If you are freezing the dish, allow it to thaw in the refrigerator the day before serving it, and then reheat it on the stove over low-medium heat until the internal temperature of the chicken reaches a minimum of 165°F.
Nutrition
Serving:
1
chicken thigh with sauce
Calories:
409
kcal
(20%)
Carbohydrates:
16
g
(5%)
Protein:
27
g
(54%)
Fat:
25
g
(38%)
Saturated Fat:
5
g
(31%)
Polyunsaturated Fat:
4
g
Monounsaturated Fat:
13
g
Cholesterol:
230
mg
(77%)
Sodium:
255
mg
(11%)
Fiber:
4
g
(17%)
Sugar:
7
g
(8%)