Are you looking for an easy, healthy, and delicious meal that can be made with leftovers? Look no further than the viral TikTok Salmon and Rice Bowl! This tasty dish has been taking the internet by storm, and it's no surprise why: it's a delectable blend of savory salmon and fluffy rice that's sure to please. Best of all, it only takes minutes to make and uses basic ingredients that you likely already have in your kitchen.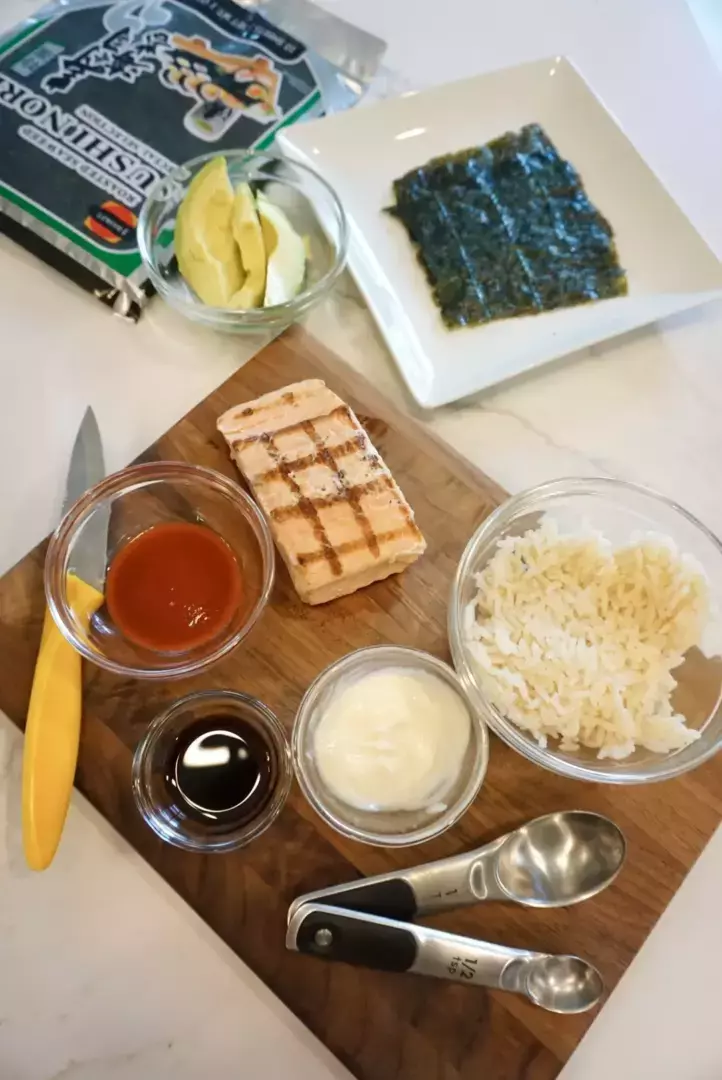 How To Make Salmon and Rice Bowl
This viral TikTok recipe was created by lifestyle blogger, Emily Mariko. Emily chooses to use leftover ingredients for this recipe, however, you can still use fresh ingredients if you prefer! All you need to do is take about 4 ounces of leftover salmon (or fresh salmon) and flake it up in a bowl using a fork. Then, you take ¾ cup of leftover rice and place it right on top of the flaked-up salmon.
Then, the most interesting part, you place one ice cube in the center of the rice before placing it in the microwave for 2 minutes. The reason for this ice cube is that it helps keep the leftover rice from drying out. However, if you use fresh rice, you can choose to omit the ice cube.
After microwaving the rice and salmon, you just add soy sauce, kewpie mayo, and sriracha sauce and mix it all together. Lastly, you will top the mixture with sliced avocado and kimchi. The bowl can be enjoyed as is, or some people prefer to use seaweed sheets to make little roll-ups with the salmon mixture! Both options are absolutely delicious.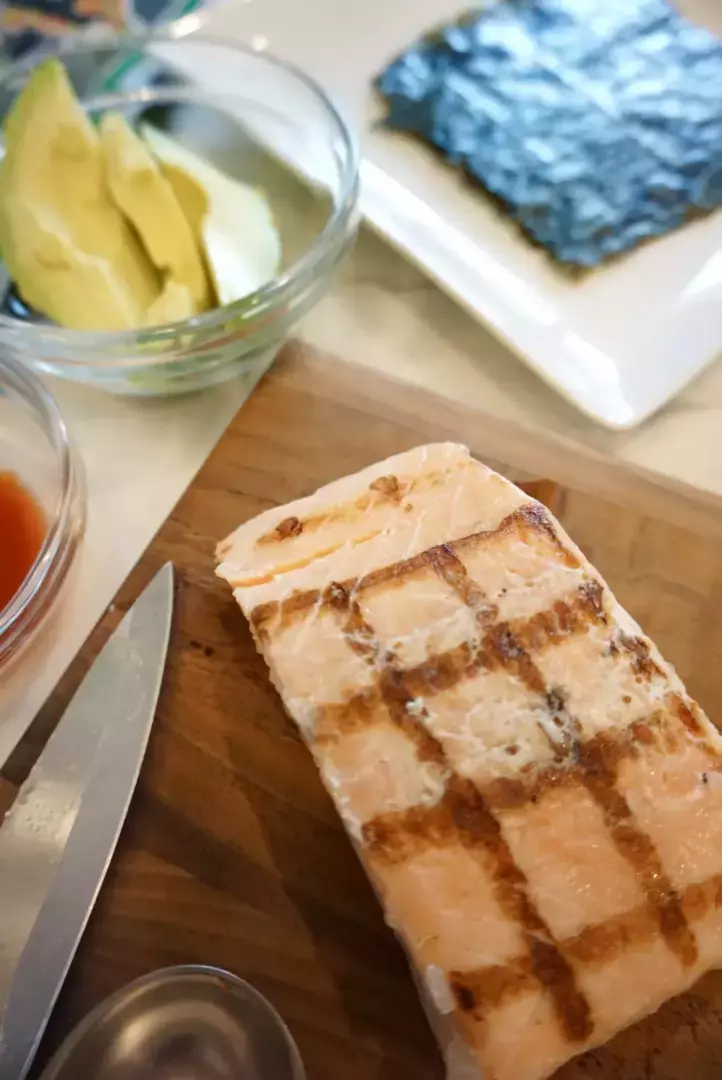 What is Kewpie Mayonnaise?
This viral TikTok recipe uses an ingredient called, kewpie mayonnaise. Kewpie mayonnaise is a popular condiment in Japan that has gained popularity worldwide. However, some grocery stores may not carry this delicious condiment! But – no worries here, as you can make kewpie mayo on your own, right at home. All you need to do is whisk together 1 tablespoon of light mayo, ½ teaspoon of rice vinegar, and ⅛ teaspoon of sugar.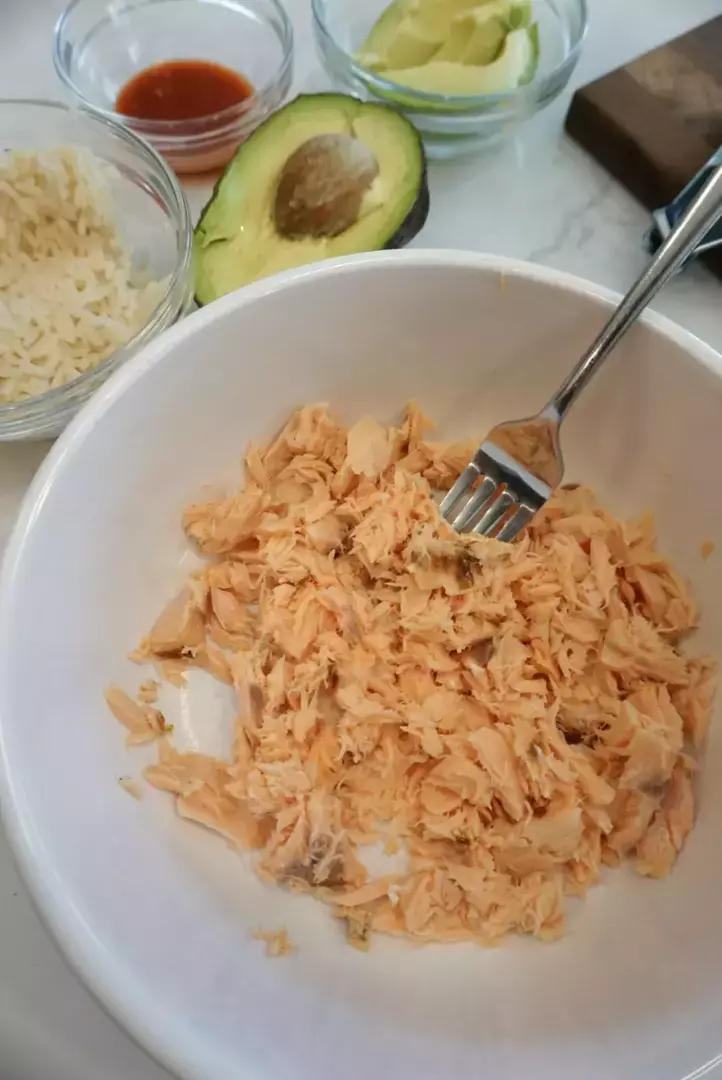 Is Kimchi Healthy?
Kimchi is a highly nutritious fermented vegetable that has been used in Korean dishes for centuries. Kimchi contains beneficial probiotics from the fermentation process that help to support gut health and digestion. Additionally, kimchi is a good source of fiber, vitamins A and C as well as iron and calcium – all essential nutrients for a healthy body.
However, it should be noted that some types of kimchi can be high in sodium due to the salt used during the fermentation process. Those on a low-sodium diet should consume kimchi in moderation or opt for homemade versions where they can control the amount of salt used.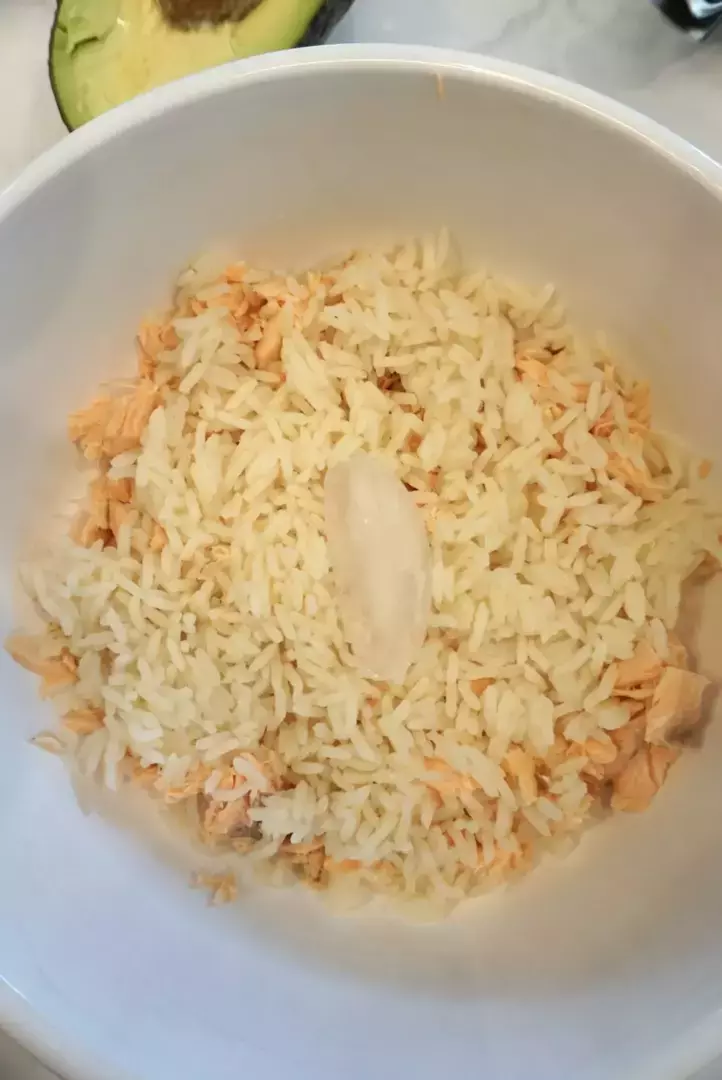 Health Benefits of Salmon
Salmon is one of the most nutritious foods on the planet. One of the biggest health benefits of salmon is its high omega-3 content. Omega-3 fatty acids are essential for maintaining heart health, optimal brain function, and reducing inflammation in the body.
In addition to its omega-3 content, salmon also contains high levels of vitamin D, which is crucial for maintaining strong bones and teeth. Salmon also boasts an impressive array of antioxidants that help fight against free radicals in the body – chemicals that can cause cell damage that lead to numerous health problems.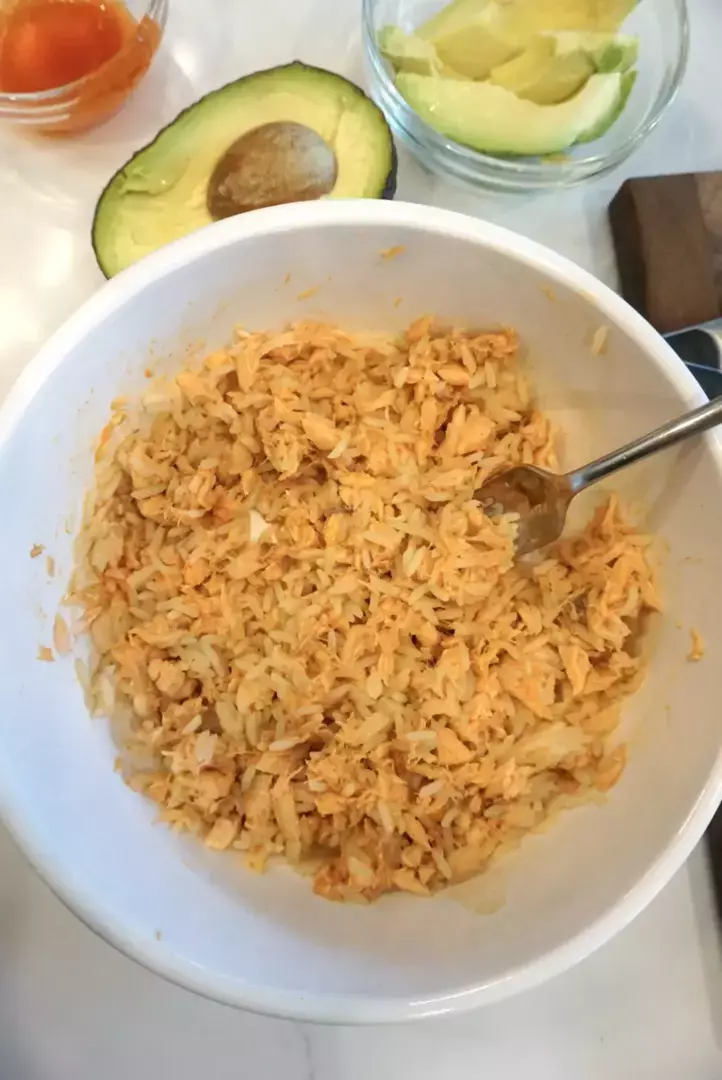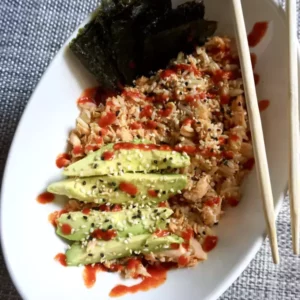 Viral TikTok Salmon and Rice Bowl Recipe
This dish is packed with fiber, protein, and heart-healthy fats that will keep you feeling energized and satisfied throughout the day. Never throw out your leftover ingredients again! You can reduce waste while enjoying this delicious bowl that only takes a few minutes to prepare.
Ingredients
4

oz

leftover Atlantic salmon filet

-

cooked

¾

cup

leftover cooked rice

-

brown or white

1

ice cube

½

avocado

-

sliced

1

tablespoon

soy sauce or coconut aminos

1

teaspoon

kewpie mayo

2

tsp

sriracha

4

roasted seaweed sheets

-

optional

Kimchi

-

optional
Instructions
Place the salmon filet in a microwave-safe bowl and use a fork to shred the salmon until it is broken up into small pieces.

Add the rice right on top of the salmon and then place one ice cube in the center, nestled into the rice.

Cover the bowl with a paper towel and microwave it on high for 2 - 2 ½ minutes.

Remove the bowl from the microwave and remove any remaining ice, if any.

Add soy sauce, kewpie mayo, and sriracha sauce. Mix until the rice and salmon are well combined.

Top with sliced avocado, kimchi, and more kewpie mayo and sriracha sauce, if desired.

You can enjoy the bowl as is, or wrap the salmon mixture in the seaweed sheets to make your own mini roll-ups.
Nutrition
Serving:
1
bowl
Calories:
542
kcal
(27%)
Carbohydrates:
42
g
(14%)
Protein:
38
g
(76%)
Fat:
25
g
(38%)
Saturated Fat:
4
g
(25%)
Polyunsaturated Fat:
1
g
Monounsaturated Fat:
6
g
Cholesterol:
94
mg
(31%)
Sodium:
1200
mg
(52%)
Fiber:
7
g
(29%)
Sugar:
2
g
(2%)