Cajun Chicken Wrap Recipe – 3 Point Value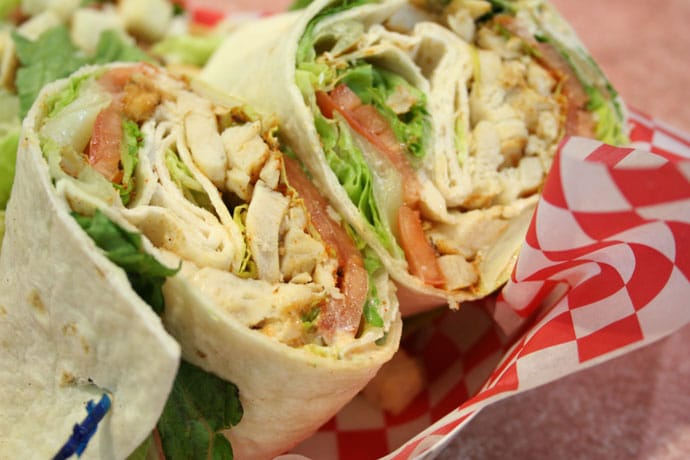 Since the Fourth of July is coming up in just a few days, and just about everyone I know will be going to some kind of cookout, barbecue or picnic. I thought I'd share a few awesome, healthy, low calorie recipes that are easy to make and perfect for that 4th of July BBQ! So I've decided to devote this week's posts entirely to yummy, yet low in Point Value, Fourth of July barbecue recipes! If you are looking for healthy barbecue foods to take to your holiday celebration, you've come to the right place. Make sure to stop back every day this week and check out my Weight Watcher Fourth of July Recipes!
My first 4th of July recipe is for the amazingly delicious Weight Watcher Cajun Chicken Wraps. With just a 3 Weight Watcher Point Value per serving, these babies are not only diet friendly, but they are SO good and so easy to share, making them a perfect Fourth of July picnic treat!

Weight Watcher Cajun Chicken Wrap Recipe
Ingredients:
3/4 pound uncooked boneless, skinless chicken breast, cut into strips3 Tbsp Cajun seasoning
4 medium tortillas, flour, fat-free
1 Tbsp all-purpose flour
1/2 small onion(s), red, thinly sliced
1 tsp paprika
2 cup mixed baby greens
3 tbsp Cajun seasoning
1/2 tsp Cajun seasoning
8 medium basil, leaves
1 1/2 tsp fresh lemon juice
4 tsp fat-free mayonnaise
1 small tomato cut into strips
salt and pepper to taste
Directions:
Mix the 3 tablespoons of Cajun seasoning, paprika and flour. Season chicken with salt and pepper and coat with seasoning mixture. Spray a large, nonstick skillet with cooking spray. Over medium-high heat, add chicken to pan and sauté until cooked through (approximately about 1 to 2 minutes per side). Remove chicken from heat and set aside. In a separate bowl, mix mayonnaise, lemon juice and 1/2 teaspoon Cajun seasoning for the dressing. On each tortilla, spread 1 teaspoon dressing, add greens, onion slices, two basil leaves and some slices of tomatoes. Top with chicken pieces and wrap. Enjoy!
Serves 4.
Each serving = 3 Point Value