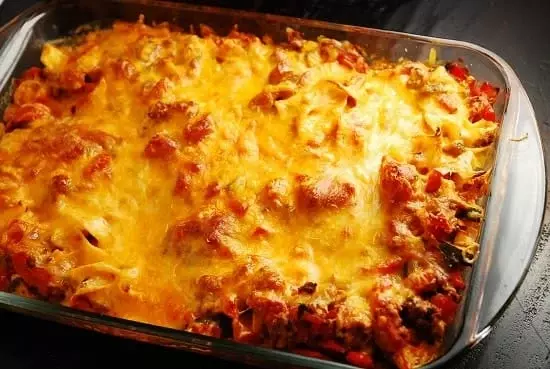 When you want something beefy and cheesy, look no further than this Ground Beef and Cheddar Casserole Recipe. It is excellent. And 7 Points + per serving is quite a bargain for what you get. I also feel like this casserole is really filling and satisfying…probably because it addresses all of the things I crave most: meat, carbs and cheese. This is a really easy Weight Watchers Casserole that you can put together quickly for a weeknight dinner and the family will love it. The bell peppers and zucchini give it a nice flavor and bulk it up some too. It's also a sneaky way to get those veggies in for the kids! When I was making this, I felt like Honey Boo Boo's mom making one of her "multi-meals"….but it really is an all in one dish! Carbs? Check. Protein? Check. Dairy? Check. Vegetables? Check. See? It is a multi-meal! Everything you need in one fantastic casserole. Enjoy!
Ground Beef and Cheddar Casserole
A delicious and easy casserole recipe that will be a hit with the whole family. Cheesy, beefy and full of flavor, it's also incredibly satisfying and makes great leftovers.
Ingredients
6oz wide, whole wheat noodles (I used Ronzoni Extra Wide Noodles)
16oz extra lean ground beef
2 medium zucchini, diced
1 medium yellow onion, finely diced
1 red bell pepper, seeded and diced
1 16oz container fat free sour cream
1 28oz can diced tomatoes
1/2 cup grated Parmesan cheese
1 ½ cups reduced fat, shredded, sharp cheddar
4 garlic cloves, minced
1 tsp dried oregano
1 tsp dried basil
1 tsp dried parsley
Salt and pepper to taste
Instructions
Preheat oven to 425 degrees. Spray a 9" x 13" baking dish with non-fat cooking spray.
Cook noodles according to package directions, drain and place into a large bowl. Mix in the sour cream and parmesan, and then pour into baking dish.
While the noodles are cooking, spray a large, nonstick skillet with non-fat cooking spray, and add in the garlic. Cook until tender and fragrant, about 2 minutes.
Add in the ground beef. Season with salt and pepper, and cook until no longer pink…about 5-8 minutes.
Add in the zucchini, bell peppers and onions and cook until vegetables just being to become tender, about 3-5 minutes.
Add in diced tomatoes, dried oregano, dried basil, and dried parsley, bring to a simmer, and cook until the sauce begins to thicken, about 3-4 minutes. Season with additional salt and pepper as desired.
Empty the beef and vegetable mixture over the noodles, and evenly sprinkle the reduced fat cheddar over top.
Place in oven and bake until cheese is melted and bubbling, about 20 minutes.
Let cool for about 5 minutes before serving.
Preparation time: 20 minute(s)
Cooking time: 30 minute(s)
Diet tags: Reduced fat
Number of servings (yield): 8
Culinary tradition: USA (General)
Entire recipe makes 8 servings
Serving size is about 1 1/4 cups
Each serving = 7 Points +
PER SERVING: 289 calories; 8g fat; 23g carbohydrates; 29g protein; 4g fiber