I don't know what's gotten into me lately, but I am craving sweets ALL the time. And being a Weight Watcher, this can be a deadly path!
Sure, I could let myself be bad, go buy a box of chocolates at the store and indulge myself. But instead, I chose to try this rockin' Chocolate Marshmallow Fudge Recipe, and I am SO glad I did!!
It was a super easy fudge recipe, it tasted delicious, and most importantly, I was able to track my Weight Watchers Points and know exactly how much I was consuming.
And it was a heck of a lot of fun making candy at home! So if you are looking for a way to satisfy your chocolate fudge craving, give this Chocolate Marshmallow Fudge Recipe a try! It's seriously one of the yummiest Weight Watchers Fudge Recipes you'll find.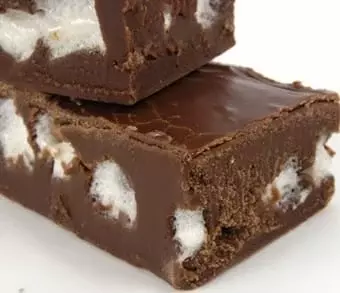 CHOCOLATE MARSHMALLOW FUDGE RECIPE
An easy to make, homemade marshmallow fudge recipe that is creamy, rich, and decadent.
Ingredients
1 ⅔

cups

sugar

⅔

cup

fat-free evaporated milk

2

tbsp

light butter

12

oz

semisweet chocolate chips

1

cup

mini marshmallows
Instructions
Coat an 8- X 8-inch pan with cooking spray.

In a medium saucepan, stir together sugar, evaporated milk and butter; bring to a boil over high heat. Reduce heat to medium-low and cook, stirring constantly, about 3 minutes.

Stir in chocolate and marshmallows; remove the pan from heat and stir until smooth.

Pour mixture into prepared pan and refrigerate until firm, about 2 hours.

Cut into 36 1 1/3-inch squares and serve.
Notes
Entire recipe makes 36 servings
Serving size is 1 piece
Nutrition
Calories:
100
kcal
(5%)
Carbohydrates:
17.4
g
(6%)
Protein:
0.3
g
(1%)
Fat:
3.7
g
(6%)
Saturated Fat:
2.3
g
(14%)
Cholesterol:
3
mg
(1%)
Sodium:
11
mg
Potassium:
14
mg
Sugar:
15.7
g
(17%)
Calcium:
10
mg
(1%)
Iron:
0
mg