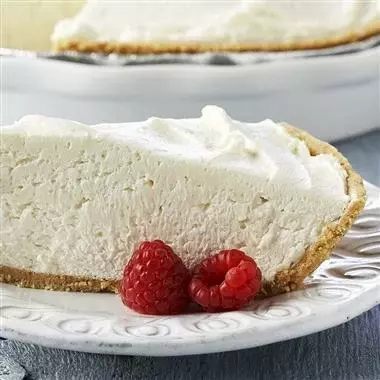 I LOOOOOOOVE cheesecake! But being a weight watcher, I pretty much ruled out this tasty dessert recipe. But then I stumbled upon this delicious, no-bake cheesecake recipe that has a Points of just 6! It's light and fluffy, yet still creamy and delicious. The perfect treat for cheesecake lovers who are watching their waistline. Next time you are in need of a good low calorie dessert recipe, give this no-bake cheesecake a try!
No-Bake Cheesecake Recipe
Ingredients:
– 8 oz Cool Whip Free
– 8 oz 1/3 less fat Philadelphia Cream Cheese
– 9 inch reduced fat Graham Cracker Crust
– 1/4 cup sugar
– 1 tsp lemon juice
Directions:
In a large bowl, whip cream cheese, lemon and sugar for a few minutes until fluffy. Add Cool Whip and whip until smooth. Spoon mixture into pie crust and chill for a few hours, until firm. Cut into 8 equal slices. Or serve just the cheesecake as a mousse, without the pie crust, for only a 4 Points!
Entire Recipe makes 8 servings
Serving size = 1 slice
Each serving = 6 Points
*This is not an official Weight Watchers dessert recipe.
This recipe was created by Gina's WW Recipes.