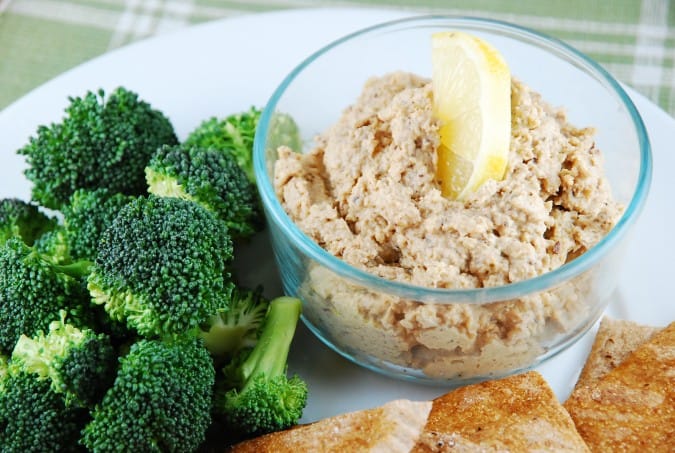 Low Carb Cauliflower Hummus Recipes have been all the rage on Pinterest lately. And since I loooooove hummus, I was game to giving this dish a try and coming up with my own version. The key is simply substituting roasted cauliflower for the garbanzo beans in order to dramatically lower the carbohydrate count. Roasting the cauliflower helps to create a similar nuttiness-like flavor that the garbanzo beans have, so that's a very important step. And while it doesn't taste exactly identical to hummus, it does taste really good. The tahini and remaining ingredients blend together perfectly with the cauliflower, and the end result is one seriously delicious low carb hummus! And check this out, instead of a measly 2 tbsp serving that you would normally get for 3 Points in a traditional hummus, you get a whopping 1/2 cup!! That's a whole lotta delicious dipping. So grab your fresh veggies and pita bread, and go to town! This Cauliflower Hummus Recipe is a MUST try.
Cauliflower Hummus
Creamy, smoky and every bit as delicious as traditional hummus, but with a lot less carbs thus, less Weight Watchers Points. Enjoy guilt free dipping with veggies or pita bread.
Ingredients
1 large sized head of cauliflower, cut into florets
1 clove garlic
6 tbsp tahini
Juice from 1 small lemon
Water as needed
Salt and pepper to taste
Instructions
Preheat oven to 400 degrees. Line a baking sheet with parchment paper, and lightly mist with an olive oil mister or non-fat cooking spray. Place cauliflower florets onto baking sheet and lightly mist with olive oil mister or cooking spray. Roast in oven for about 40 min or until cauliflower begins to brown on edges.
Place cauliflower and all remaining ingredients in a food processor and process until mostly smooth. Add water, one tbsp at a time to achieve a thinner consistency, if desired.
Preparation time: 10 minute(s)
Cooking time: 40 minute(s)
Diet type: Vegan
Diet tags: Low calorie, Reduced fat, Reduced carbohydrate
Number of servings (yield): 6
Culinary tradition: Middle Eastern
Calories: 110
Fat: 8g
Protein: 4g
Entire recipe makes 6 servings
Serving size is 1/2 cup
Each serving = 3 Points
PER SERVING: 110 calories; 8g fat; 7.5g carbohydrates; 4g protein; 3.5g fiber