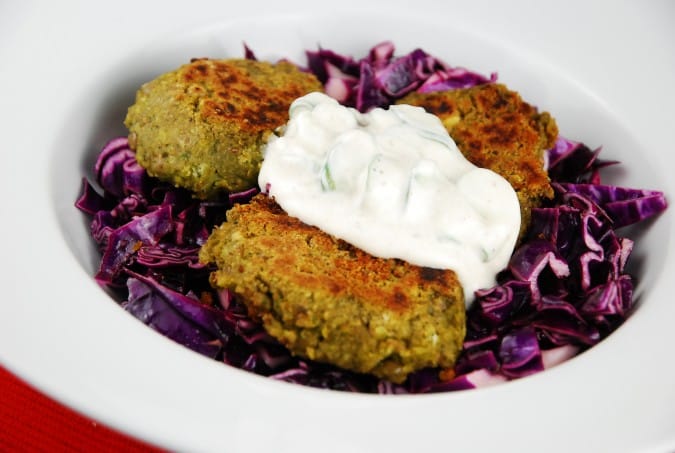 Here's one of my favorite Weight Watchers Vegetarian Recipes for those days when I want a really filling and satisfying dish that is equally delicious. These Lentil Fritters are crisped on the outside, and soft and warm on the inside. They are served on a bed of fresh, sweet and tangy cabbage slaw and topped with a cool creamy, cucumber yogurt sauce. Packed with an incredible amount of fiber and protein, these lentil fritters come out to just 5 Points plus per serving! They are a bit time consuming to make, but you can cut some of the prep work out and used canned lentils, if you prefer. But it is well worth the effort – they are fantastic!
Lentil Fritters
Crisp on the outside, soft and flavorful on the inside, these lentil fritters are wonderful Weight Watchers Vegetarian Recipe that makes for a very filling meal. The fresh cabbage slaw and cool cucumber yogurt sauce accompany the fritters perfectly!
Ingredients
1 cup dry lentils
2 1/2 cups water
4 cloves garlic
1/2 cup Panko breadcrumbs
1 tsp cumin
Juice from 1 lemons + 1 extra tbsp
Juice of 1 lime
1 tbsp honey
2 tbsp cider vinegar
1/2 cup fresh cilantro
1/2 cup fresh parsley
2 tbsp oilve oil, plus 1 extra tsp
1 small red cabbage, shredded
1 cup plain, nonfat Greek yogurt
1 small Persian cucumber
Salt and pepper to taste
Pinch of ground cardamom
Instructions
Place lentils in a medium sized sauce pan, and cover with water. Bring to a boil, then turn heat to low, cover and cook until lentils are tender, about 30-35 minutes.
Place half of the cooked lentils in a food processor. Add in cilantro, parsley, 2 garlic cloves, cumin, 1 tbsp lemon juice, and cardamom. Process until smooth.
In a large bowl, combine the processed lentil mixture with the remaining lentils, the breadcrumbs, and season with salt and pepper as desired.
Shape into 18 oval shaped patties. Place on glass dish, cover with plastic wrap and refrigerate for 2-3 hours.
Make cucumber sauce by mixing together the cucumber, yogurt, juice from 1 lemon, 1 clove garlic (minced) and season with salt and pepper as desired. Mix well, cover and refrigerate at least 1 hour.
Make cabbage salad by combining cabbage, honey, juice from 1 lime, 1 tsp olive oil, 1 garlic clove (minced) and salt and pepper. Toss well to combine.
Heat 1 tbsp oil in a large, nonstick skillet over medium high heat. Working in 2 batches, cook 9 of the patties until browned, about 3-4 minutes each side. Repeat with remaining tbsp of oil and remaining 9 patties.
Divide cabbage salad equally onto 6 plates. Top with 3 lentil fritters and about 3 tbsp yogurt sauce.
Preparation time: 20 minute(s)
Cooking time:
Diet type: Vegetarian
Diet tags: Low calorie, Reduced fat, High protein
Number of servings (yield): 6
Culinary tradition: Indian (Southern)
Calories: 224
Fat: 5g
Protein: 13g
Entire recipe makes 6 servings
Serving size is 3 fritters with cabbage salad and yogurt sauce
Each serving = 5 Points
PER SERVING: 224 calories; 5g fat; 31g carbohydrates; 13g protein; 10.5g fiber