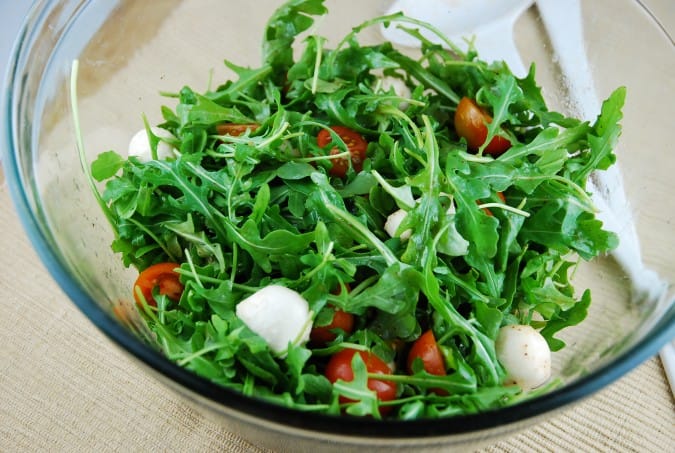 Combine fresh cherry tomatoes and whole milk mozzarella with peppery arugula for a light and easy Weight Watchers Salad Recipe that is as delicious as it is lovely. This low calorie dish literally takes no more than 5 minutes to make, and it makes such a pretty and flavorful side salad that can accompany a variety of meals. The fresh and mild mozzarella goes wonderfully with the acidity of the fresh tomatoes, and tang of the vinaigrette…and it's all balanced on a bed of piquant arugula leaves. You can even toss in a handful of fresh basil leaves for an added boost of flavor, if you'd like. Each serving is just 3 Points, so this is a great way to add some extra pizzaz to your meal without using up a lot of those precious Points.
Arugula Caprese Salad
Satisfying, light and deliciously fresh tasting, this easy Caprese salad makes a wonderful side salad that can put together quickly and looks lovely. And at just 3 Points per serving, it's a great side dish for Weight Watchers.
Ingredients
5 cups arugula
1 cup cherry tomatoes, halved
8 oz whole milk fresh mini mozzarella balls, in water (about 24 balls)
6 tbsp light balsamic vinaigrette dressing (I used Newman's Own)
Salt and pepper as desired
Instructions
Drain water from fresh mozzarella balls.
Toss together all ingredients in a large bowl. Season with salt and pepper as desired.
Preparation time: 5 minute(s)
Cooking time:
Diet type: Vegetarian
Diet tags: Low calorie, Reduced fat, Reduced carbohydrate, Raw
Number of servings (yield): 6
Culinary tradition: USA (General)
Calories: 114
Fat: 8g
Protein: 8.5g
Entire recipe makes 6 servings
Serving size is about 1 cup
Each serving = 4 Smart Points/3 Points
PER SERVING: 135calories; 8g fat; 4g saturated fat; 5g carbohydrate; 2g sugar; 10g protein; 1g fiber