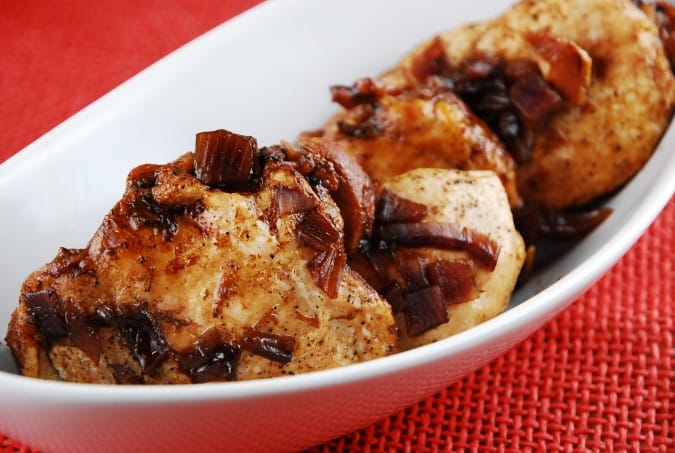 Forgot to plan dinner tonight? If so, this easy Sweet Balsamic Chicken Recipe is the way to go! It's a super easy chicken dish with ingredients that you most likely have on hand. It can be prepared quickly and delivers a wonderfully moist, tender chicken that is incredibly flavorful. The sweetness of the vanilla and orange are a wonderful contrast to the rich tang of the balsamic. And when the chicken soaks up the incredible flavors from sauce while cooking, the result is a wonderful Weight Watchers chicken recipe that the whole family will enjoy. In a pinch, I've used red onions instead of shallots, honey instead of brown sugar, and fresh squeezed orange juice instead of store bought…all resulted in a great dish. I like to add in some chopped vegetables with the chicken and the sauce before cooking, and then serve over some whole wheat couscous….it's AMAZING, and a great way to give those veggie servings some serious flavor.
Sweet Balsamic Chicken
Ingredients
2 lbs skinless, boneless chicken breasts, cut into 6 fillets
2 large shallots, chopped
2 garlic cloves, minced
1/2 cup fat free chicken broth
1/2 cup balsamic vinegar
1/4 cup brown sugar
2 tsp vanilla extract
1/4 cup orange juice
1 tsp orange zest
Salt and pepper to taste
Instructions
Preheat oven to 400 degrees, and spray a large baking dish with nonfat cooking spray.
Season chicken generously with salt and pepper, and place in baking dish.
In a small sauce pan, combine remaining ingredients. Bring to a boil. Reduce heat to medium, and let simmer until sauce reduces down a bit, about 15 minutes.
Pour sauce over chicken and cover baking dish with foil. Poke a few holes in the foil ;to allow for steam to escape.
Place in oven and cook until chickens cooked through, about 20 minutes. Remove foil and place back in oven for another 10-12 minutes to brown the top of the chicken. Let cool about 5 minutes before serving.
Preparation time: 5 minute(s)
Cooking time: 45 minute(s)
Diet tags: Low calorie, Reduced fat, Reduced carbohydrate, High protein
Number of servings (yield): 6
Culinary tradition: USA (General)
Calories: 221
Fat: 2g
Protein: 34g
Entire recipe makes 6 servings
Serving size is 1 6oz chicken fillet with sauce
Each serving = 11 Smart Points/5 Points
PER SERVING: 412calories; 6g fat; 2g saturated fat; 37g carbohydrate; 24g sugar; 51g protein; 4g fiber