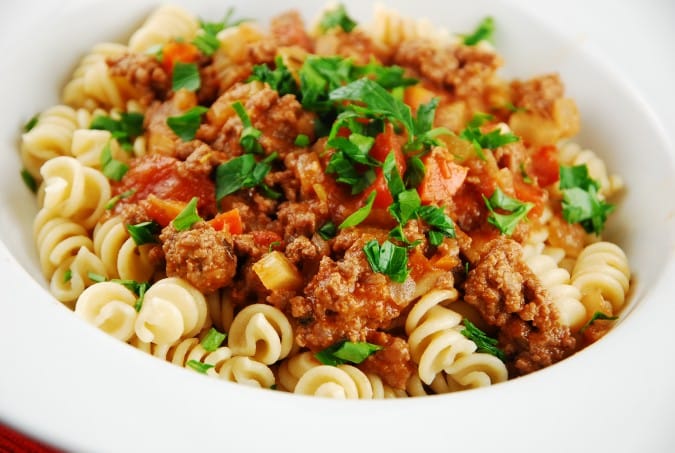 This Light Beef Bolognese Recipe, is without a doubt, my absolute favorite Weight Watchers bolognese, EVER. It was inspired by the ONE and ONLY time my husband actually cooked for me…Valentine's Day 2011. Though my man never steps for in the kitchen, the one time he did, he knocked it out of the park. And he knows that, for me, nothing says "I love you" like a big bowl of thick, meaty, decadent bolognese. He spent days researching bolognese recipes online, and he ended up creating the most delicious one I've ever had. So of course, I worked hard to duplicate that amazing flavor in a lower fat, Weight Watchers version. And my success was tremendous! My healthier bolognese is absolutely incredible….and it has become a regular in our dinner rotations. At 8 Points per serving, you'll get an amazing bolognese that tastes so good, you'll never know you are eating healthier. This is a MUST MAKE.
Light Beef Bolognese
One of the best, if not the best bolognese you'll ever have, it's hard to believe that this tasty and fragrant dish is so diet friendly and full of nutrition. The thick, meaty sauce is so comforting and delicious and is a perfect winter evening dinner.
Ingredients
1 lb extra lean ground beef (96% lean, 4% fat)
16 oz whole wheat pasta
1 small onion, finely chopped
5 cloves garlic, minced
2 stalks celery, chopped
2 medium sized carrots, chopped
1 cup red wine
2 tbsp ketchup
1/2 tsp ground cinnamon
1/4 tsp ground nutmeg
1/2 tsp dried thyme
1 tsp dried oregano
1 15 oz can tomato sauce
1 15 oz can crushed tomatoes
2 tbsp light butter
1/4 cup 2% milk
Salt and pepper to taste
Instructions
Prepare pasta according package directions.
Set a large nonstick skillet over medium high heat and mist with cooking spray. Add in the onions and garlic, and sauté until they begin to become tender, about 2 minutes. Now add in carrots and celery, and cook for another 3-4 minutes, until they begin to soften.
Add in the ground beef, cinnamon, nutmeg, thyme, oregano and salt & pepper, and cook, while stirring and breaking apart with a wooden spoon, until meat is no longer pink, about 5 minutes.
Stir in the wine, and deglaze the pan to remove any browned bits at the bottom. Cook until most of the liquid has evaporated off, about 3 minutes.
Add in the crushed tomatoes, tomato sauce, and ketchup. Bring to a boil, then reduce heat to medium low, and simmer while stirring occasionally, until the sauce is rich and thick, about 45 min – 1 hour.
Add in the milk and butter, and cook for another 5 minutes, stirring regularly.
Remove from heat and spoon over cooked pasta noodles.
Preparation time: 15 minute(s)
Cooking time: 1 hour(s) 30 minute(s)
Diet tags: Reduced fat, High protein
Number of servings (yield): 8
Culinary tradition: Italian
Calories: 371
Fat: 5g
Protein: 18g
Entire recipe makes 8 servings
Serving size is about 1 cup pasta and 1/2 cup sauce
Each serving = 10 Smart Points/8 Points
PER SERVING: 340calories; 7g fat; 3g saturated fat; 48g carbohydrate; 7g sugar; 22g protein; 9g fiber