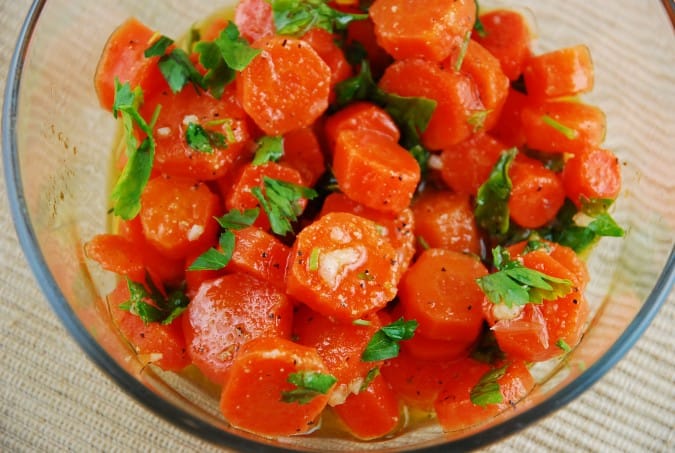 Lately, my kids have been really into carrots. And when they are on a roll with a vegetable, I ride that wave as long as I can! So in an effort to keep the carrots coming, I've been experimenting with some tasty new ways to prepare them. And at recent Shabbat dinner at a close friend's house, she introduced me to this amazing Cumin Lime Carrot Salad dish. It was so light and delicious and made a perfect low calorie side dish. Each bite offers the zing of the salty, lime vinaigrette with the balance of the sweet carrots. The kick of garlic and cumin add a wonderful boost of flavor! I also love that this is such an easy salad to throw together, and the colors look absolutely gorgeous. The carrots are cooked until just tender – you've gotta be careful not to overcook them, or your salad will be mush. Adding the lime juice and spices while the carrots are still warm allow them to really penetrate the carrots, making for one seriously delicious salad.
Cumin Lime Carrot Salad
Fresh, bright, and absolutely delicious, this unique salad recipe makes a wonderful side dish for any meal. The salty lime vinaigrette contrasts the sweet carrot for a perfectly harmonious flavor combination.
Ingredients
6 large carrots, peeled and sliced
1 tbsp olive oil
2 garlic cloves, minced
1 tsp cumin
2 tbsp fresh parsley, chopped
Juice from 1 large lime
Salt and pepper to taste
Instructions
Bring a small pot of water to a boil. Add in carrots, and blanche briefly, just until carrots begin to soften a bit, about 2 minutes. Drain and place in a large bowl.
While carrots are still hot, add in oil, lime juice, garlic, cumin, salt & pepper. Toss well to coat.
Cover and refrigerate for at least 1 hour. Just before serving, add in parsley and toss again.
Preparation time: 10 minute(s)
Cooking time: 2 minute(s)
Diet type: Vegan
Diet tags: Low calorie, Reduced fat, Reduced carbohydrate
Number of servings (yield): 4
Culinary tradition: Middle Eastern
Calories: 75
Fat: 3.5g
Protein: 10g
Entire recipe makes 4 servings
Serving size is about 1/2 cup
Each serving = 3 Smart Points/2 Points
PER SERVING: 87calories; 4g fat; 1g saturated fat; 13g carbohydrate; 6g sugar; 1g protein; 4g fiber