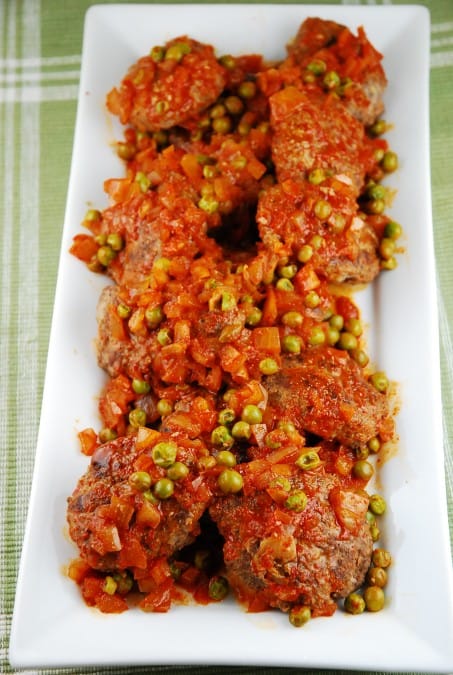 Get a taste of old-world style in these delicious Polish Chicken Meatball Patties. So tender and juicy, they are wonderfully seasoned and are sure to make any Polish mother proud. Made from lean ground chicken breast, they are a lot lighter than their traditional counterparts. Each 4 patty serving will cost you just 5 Points, which is pretty great. I like to serve them with some warm, whole wheat pita bread, but they also work really well over steamed brown rice too. Enjoy!
Polish Chicken Meatball Patties
Traditionally flavored Polish-style meatball patties made from tender ground chicken and seasoned to perfection. At just 5 Points for a 4 patty serving this tasty dish is a real treat for Weight Watchers.
Ingredients
1lb ground chicken breast
1 large carrot, finely grated
2 small onions, finely grated
5 garlic cloves, minced
1/2 cup Panko breadcrumbs
1 cup peas, thawed
1 egg
2 tbsp olive oil
3 tsp sweet paprika
1/2 tsp cinnamon
1/2 tsp allspice
1/4 tsp nutmeg
2 chicken bouillon cubes
2 cups fat free chicken broth
2 tbsp fresh flat-leaf parsley, minced, plus more for garnish
Salt and pepper to taste
Instructions
In a large bowl, combine the ground chicken, carrot, 1 onion, 3 garlic cloves, egg, Panko, 1 tsp paprika, cinnamon, nutmeg, allspice, 2 tbsp parsley, and salt & pepper. Mix with hands until well combined.
With hands, form meat into about 24 balls, and then slightly flatten. Place on a platter, cover and refrigerate for at least 1 hour.
Heat 1 tbsp oil in a large nonstick skillet, over medium high heat. Cook the meatball patties in the pan, covered with a lid, until browned, for about 4 minutes on each side. You may need to work in batches to avoid overcrowding the pan. Add the remaining olive oil as needed for each batch.
Once meatball patties are cooked, transfer to a plate and set aside.
Now add in the remaining onion and garlic to the same skillet, and cook until onions are soft and translucent (about 3 minutes), scraping up any browned bits from the bottom of the pan while you cook.
Add in stock and bouillon and bring to a simmer.
Stir in remaining paprika, and season with salt & pepper as desired. 
Now turn the heat down to medium low, and return the chicken patties to the pan. Cover and cook for an additional 15 minutes. Add in the peas, and cook for another 5 minutes or until the peas are heated through. 
Garnish with fresh parsley and serve.
Preparation time: 15 minute(s)
Cooking time: 30 minute(s)
Diet tags: Low calorie, Reduced fat, Reduced carbohydrate, High protein
Number of servings (yield): 6
Culinary tradition: Polish
Calories: 194
Fat: 8g
Protein: 21g
Entire recipe makes 6 servings
Serving size is 4 meatball patties with sauce
Each serving = 8 Smart Points/5 Points
PER SERVING: 314calories; 14g fat; 3g saturated fat; 18g carbohydrate; 5g sugar; 29g protein; 3g fiber