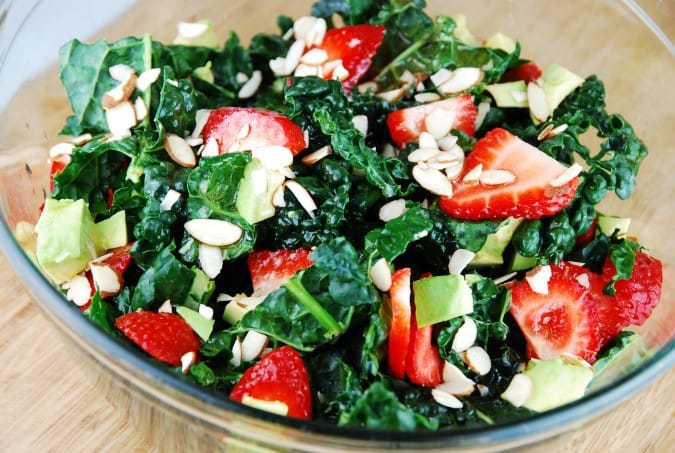 Spring is just around the corner, and I'm eager to welcome in the warm sunshine! And one of my favorite ways to celebrate spring is with fresh, bright salads. This Kale, Strawberry and Avocado Salad is just the ticket. It is an excellent dish for when you want to pack a TON of nutrition into one serving, as it's loaded with heart healthy fats, vitamins and minerals, and important dietary fiber. This sweet and salty salad would be a perfect Weight Watchers Easter Brunch Recipe, if you are scouting out some good ideas. I also love to toss in couple of tablespoons of feta cheese when I want to add in another flavor dimension. At just 5 Points per serving, this healthy and delicious salad is a must try! Enjoy.
Kale, Strawberry and Avocado Salad
Fresh, delicious and simple, this salad packs one seriously nutritious punch! Loaded with heart healthy fats, it's as flavorful as it is lovely.
Ingredients
5 cups kale, chopped
1/2 cup strawberries, sliced
1/2 an avocado, chopped
1/4 cup sliced almonds
2 tbsp olive oil
1 tbsp honey
Juice from 1 lemon
Salt & pepper to taste
Instructions
In a large bowl, toss together kale, strawberries, avocado, and almond slices.
In a small bowl, whisk together the olive oil, lemon juice, honey, and salt & pepper.
Drizzle dressing over salad and toss to coat.
Preparation time: 10 minute(s)
Cooking time:
Diet type: Vegan
Diet tags: Low calorie, Reduced fat, Reduced carbohydrate
Number of servings (yield): 4
Culinary tradition: USA (General)
Calories: 192
Fat: 14g
Protein: 5g
Entire recipe makes 4 servings
Serving size is about 1 1/3 cups
Each serving = 7 Smart Points/5 Points
PER SERVING: 214calories; 15g fat; 2g saturated fat; 18g carbohydrate; 8g sugar; 6g protein; 6g fiber