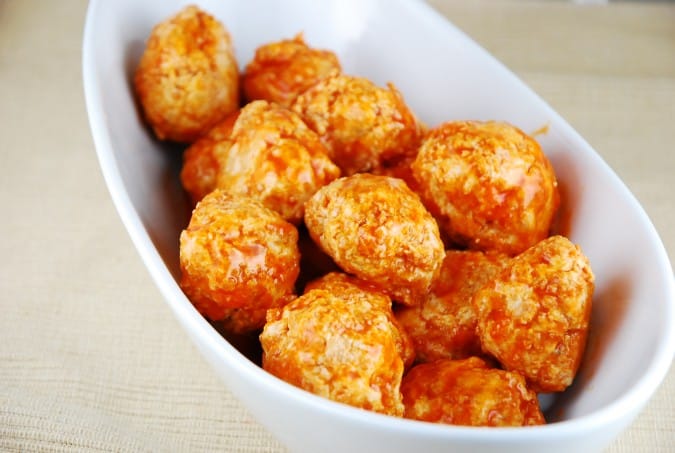 The only food other than pizza that I absolutely obsess over, is buffalo chicken wings. Mostly, it's the sauce that I crave, and I will pretty much eat buffalo chicken flavored anything. I simply CANNOT resist.
So at home, I love to experiment with new buffalo chicken recipes that are delicious but still Weight Watchers friendly. Recently, I whipped up some of these Buffalo Chicken Meatballs and they were truly out of this world! So easy to make, and a lot less messy than wings! Plus each 4 meatball serving was only 3 Points!
I actually made these for my husband and I for dinner one night, so I made 24 large meatballs. You can make this into a low calorie mini meatball appetizer recipe by forming the meat mixture into 36-40 mini meatballs instead of 24. Serve them with toothpicks, and they will for sure be a guaranteed hit at any party!
While Frank's Red Hot Sauce is my hot sauce of choice for this Weight Watchers Recipe, feel free to use any kind you'd like, as long as it has no fat or carbs like Frank's. If you are a fan of buffalo chicken wings, I highly recommend giving this Buffalo Chicken Meatballs Recipe a try immediately!
Buffalo Chicken Meatballs
Buffalo chicken fans can rejoice in this low calorie Buffalo Chicken Meatballs that will melt in your mouth! Incredibly flavorful, easy to make, and a lot less messy than wings, these tasty meatballs are a great party food!
Ingredients
1 lb lean, ground chicken breast
1/4 cup blue cheese crumbles
2 tbsp light butter
1/2 cup Frank's Red Hot Sauce
1 large celery stalk, trimmed and minced
3/4 cup Panko breadcrumbs
Instructions
Preheat oven to 425 degrees. Spray a 9 x 13 baking dish with cooking spray or an olive oil mister.
Melt butter in a small saucepan over medium heat. Add in hot sauce, and stir until combined. Remove from heat and set aside.
In a large bowl, combine all ground chicken and all remaining ingredients, along with 1/2 of the hot sauce mixture. Mix well with hands until thoroughly incorporated.
Shape into about 24 1.25" meatballs, and place meatballs into the prepared baking dish.
Cook in the oven until meatballs are cooked thoroughly cooked through, about 20 minutes.
Remove from oven and toss with remaining hot sauce.
Preparation time: 15 minute(s)
Cooking time: 20 minute(s)
Diet tags: Low calorie, Reduced fat, Reduced carbohydrate, High protein
Entire recipe makes 6 servings
Serving size is 4 meatballs
Each serving = 3 Points*
*based only on ingredients that have an SP Freestyle value
PER SERVING: 189 calories; 8g fat; 3.1g saturated fat; 88mg cholesterol; 163mg sodium; 2.4g carbohydrates; 0.5g fiber; 0.3g sugars; 25g protein