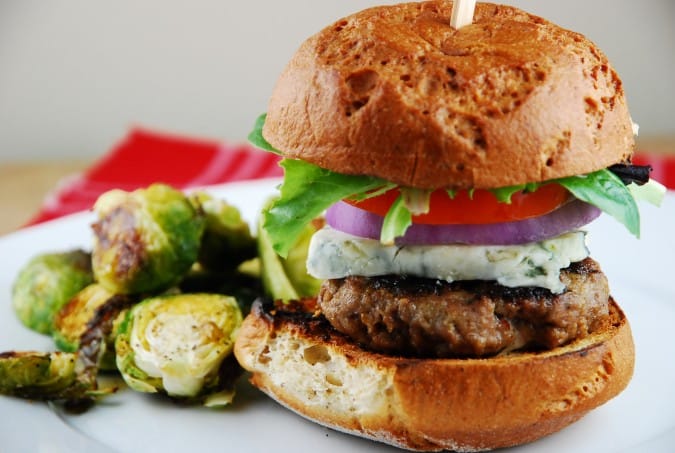 Sometimes, you just gotta have a big, juicy, manly, hearty burger. Last week, I had one of those days. So I put together this Blue Cheese Burger Recipe that was seriously out of this world. Each burger came out to just 9 Points, which wasn't bad considering how big and satisfying it was. I probably could've used a sandwich thin, or some other low carb hamburger bun, and shaved off an extra Point or two, but this time, I needed something BIG and carb-y. So I went with a thick, hearty, whole grain hamburger bun from Udi's. The meat was so juicy and flavorful, and the pungent blue cheese was the most perfect complement. The next time you need a burger that is so divine it feels NOTHING like diet, food, this Blue Cheese Burger is your ticket!
Blue Cheese Burger
A gourmet blue cheese burger that tastes incredibly decadent, and is extremely satisfying, this Weight Watchers recipe is a real winner. Much lower in fat and calories than the restaurant version, and a breeze to prepare.
Ingredients
8 whole wheat hamburger buns, sliced in half
1 lb extra lean ground beef (96% lean, 4% fat)
8 oz blue cheese, sliced
4 garlic cloves, minced
2 tsp onion powder
1/2 cup Panko breadcrumbs
1/4 cup liquid egg substitute (like EggBeaters)
1/3 cup brown mustard
1 tomato, sliced
1 small red onion, sliced
1 cup leafy greens
Salt & pepper to taste
Instructions
In a medium sized bowl, using hands, mix together ground beef, onion powder, garlic, Panko, egg substitute, and salt & pepper. Shape into 8 patties.
Preheat grill or heat a nonstick skillet over medium high heat, and mist with cooking spray. Cook burger patties until browned on both sides and cooked through, about 4 minutes per side.
Remove burgers from skillet or grill. Lightly mist the insides of the buns and place them facing down, on the same pan. Cook until the insides of the bun are toasted, about 2 minutes.
Assemble burgers by placing the meat patty on the bottom bun half, top with blue cheese, red onion slices, tomato slices and a few green leaves. Spread about 2 tsp mustard on the top bun half, and place on top.
Preparation time: 10 minute(s)
Cooking time: 10 minute(s)
Diet tags: Reduced fat, High protein, Gluten free
Number of servings (yield): 8
Culinary tradition: French
Calories: 319
Fat: 13g
Protein: 25g
Entire recipe makes 8 servings
Serving size is 1 burger
Each serving = 10 Smart Points/9 Points
PER SERVING: 319calories; 13g fat; 7g saturated fat; 24g carbohydrate; 4g sugar; 25g protein; 4g fiber