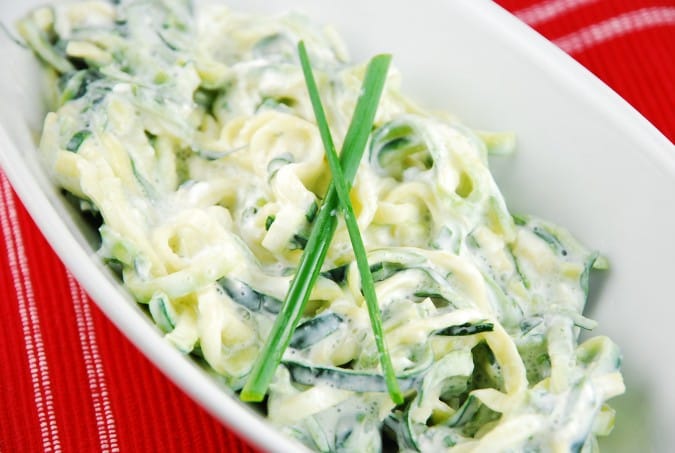 A few weeks ago, I bought a new toy for myself…the Veggetti Spiral Vegetable Cutter
. This nifty little gadget allows me to very easily turn whole zucchini into lovely, uniformly shaped zucchini noodles in just a few seconds. This is a lot easy that performing this task with my mandolin slicer, and it's really quite fun. Eager to put my Veggetti to the test, I whipped up this deliciously fresh and light Zucchini Noodles with Creamy Lemon Chive Sauce Recipe. I made it as a quick, no-cook side dish to a Sunday brunch, and it was excellent. Very light, lemony, and simple, it came out to just 2 Points per serving. I can't wait to play around with the Veggetti and see what other great new Weight Watchers Recipes I can create!
Zucchini Noodles with Creamy Lemon Chive Sauce
Fresh, light and delicious, these low calorie zucchini noodles are tossed with a bright, creamy lemon chive sauce and make a wonderful addition to just about any meal. Perfect for an Easter Brunch side dish recipe!
Ingredients
1 lb zucchini, washed and trimmed
1 tbsp fresh lemon juice
1 tbsp olive oil
1 small garlic clove, minced
1/4 cup plain, nonfat Greek yogurt
1/4 cup reduced fat sour cream
2 tbsp chives, finely chopped
Salt and pepper to taste
Instructions
In a small bowl, combine all ingredients except the zucchini. Mix well. Cover and set aside.
Using a mandolin slicer or Veggetti, slice zucchini into long thin, noodle-like strips. Place in a medium sized bowl and toss with sauce until zucchini noodles are evenly coated. Serve immediately.
Preparation time: 10 minute(s)
Cooking time:
Diet type: Vegetarian
Diet tags: Low calorie, Reduced fat, Reduced carbohydrate, Gluten free
Number of servings (yield): 4
Culinary tradition: USA (Nouveau)
Calories: 85
Fat: 5.5g
Protein: 4g
Entire recipe makes 4 servings
Serving size is about 3/4 cup
Each serving = 3 Smart Points/2 Points
PER SERVING: 79calories; 6g fat; 2g saturated fat; 5g carbohydrate; 3g sugar; 3g protein; 1g fiber