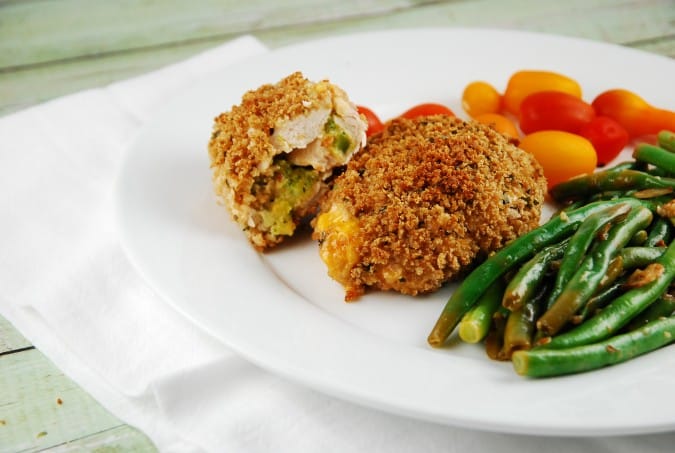 I'm gonna get right to the point here..this Broccoli and Cheddar Stuffed Chicken Breasts Recipe was ridiculously good. The chicken was so tender and juicy, and the filling was creamy, cheesy, broccoli heaven. Everything was perfectly flavored, and it made for fantastic leftovers. Getting the chicken artfully rolled up without all the yummy filling oozing out can be a bit of a task, but for such a delicious meal at just 5 Points per serving, it is absolutely worth it. I'm a firm believer that cheese makes just about anything good, and this Weight Watchers chicken recipe is no exception. Seriously, it's really, really delicious. Go make it…now!!
Broccoli and Cheddar Stuffed Chicken Breasts
This incredible chicken recipe was mouthwateringly delicious! Tender, juicy, well seasoned chicken breasts wrap around a creamy, cheesy, broccoli filled center. Winner, winner, chicken dinner!
Ingredients
1 1/2 lb skinless, boneless chicken breasts (3, 8oz breasts)
1 cup reduced fat shredded sharp cheddar
1 1/2 cups steamed broccoli, steamed
2 tbsp fat free cream cheese, room temp
1 cup Panko breadcrumbs
1/4 cup liquid egg substitute (like EggBeaters)
1 tsp garlic powder, plus more to taste
1 tsp onion powder
2 tsp dried parsley
1 tsp salt, plus more to taste
1/2 tsp pepper, plus more to taste
Instructions
Prepare the chicken by slicing across each fillet horizontally, resulting in 2 thinner chicken fillets from each 8oz breast. The, using a meat mallet, gently flatten and thin the chicken. You'll want a total of 6 fillets, about 1/4" thick each.
Preheat oven to 375 degrees, and line a small baking sheet with parchment paper, and mist it with nonfat cooking spray.
In a medium sized bowl, combine the broccoli (preferably while still warm from being steamed), cream cheese and cheddar cheese, and mix well.
In a separate shallow bowl, combine Panko, garlic powder, onion powder, parsley and salt & pepper, and mix. Place liquid egg substitute in another shallow bowl.
Season one side of chicken fillets with additional garlic powder, salt, and pepper. Spoon the broccoli and cheese mixture into the center of each chicken fillet, dividing it equally among all 6 pieces of chicken.
Carefully roll up the chicken and secure with 3-4 toothpicks as needed.
Dredge the stuffed chicken breasts in the egg mixture, gently shake off the excess, and then dredge in the Panko. Place on baking sheet. Repeat until all stuffed chicken breasts are complete.
Place baking sheet in the oven and cook until chicken is entirely cooked through, about 25-30 minutes. Let cool about 5 minutes. Remove toothpicks and serve.
Preparation time: 15 minute(s)
Cooking time: 30 minute(s)
Diet tags: Low calorie, Reduced fat, Reduced carbohydrate, High protein
Number of servings (yield): 6
Culinary tradition: USA (General)
Calories: 221
Fat: 8.5g
Protein: 33.5g
Entire recipe makes 6 stuffed chicken breasts
Serving size is 1 stuffed chicken breast
Each serving = 4 Smart Points/5 Points
PER SERVING: 221calories; 6g fat; 1.29g saturated fat; 8.5g carbohydrate; 1.92g sugar; 33.5g protein; 1g fiber