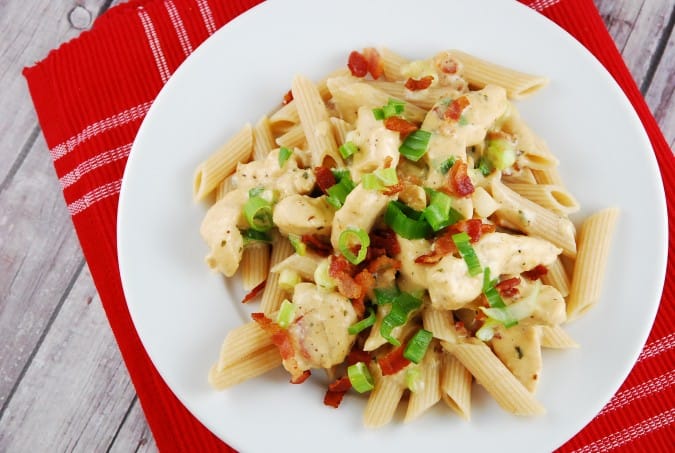 This Chicken Bacon Ranch Pasta tastes so unbelievably good, it'll be hard to believe that each serving is just 6 Points. I mean, come on….look at the title of the dish…Chicken. Bacon. Ranch. Pasta. What's not love here?!? The creamy, ranch flavored cheese sauce brings together the flavors of the crisp, salty bacon and the juicy chicken breast, which is sautéed in a bit of bacon drippings. DELICIOUS, I tell you! Yes, this dish "costs" a bit more than I'd like at 6 Points for a 1 cup serving, but it is so heavenly, I feel like I'm being bad, and, well, that makes me feel pretty good. :) Increase your serving size, if you'd like, and make this a 4 serving recipe and then each serving would be 9 Points. If you pair this Weight Watchers pasta recipe with some 0 Points roasted veggies and a very light salad, then this would be an amazing, guilt free meal!
Chicken Bacon Ranch Pasta
A mouthful of heaven, this dish will have you salivating with anticipation. Crisp, salty bacon combined with a creamy cheese sauce and sautéed chicken, served atop warm whole wheat pasta – it's hard to believe this is a Weight Watchers recipe.
Ingredients
1/2 lb skinless, boneless chicken breast, chopped into bite sized pieces or strips
6 slices bacon, cooked (I used Applegate Farms Reduced Sodium Sunday Bacon)
8 oz whole wheat pasta, uncooked
1 packet ranch seasoning mix
1 cup fat free milk
1/2 cup reduced fat sharp cheddar, shredded
2 green onions, diced
Salt and pepper to taste
Instructions
Cook pasta according to package directions and set aside.
Cook bacon in a large skillet until crisp, then drain on paper towels. Chop bacon when cool enough to handle. Drain most of the bacon drippings from the pan, leaving about 1 tbsp. Return pan to medium hit heat.
Season chicken with salt and pepper, and add into the skillet with bacon drippings, and cook until no longer pink and becomes golden brown, about 4-6 minutes.
Add in milk and ranch dressing packet, and stir well. Cook until thick and bubbling. Add in cheddar cheese and 1/2 of the reserved bacon. Cook, stirring regularly until cheese is melted. If sauce becomes too thick, thin it out with some fat free chicken broth as needed.
Spoon sauce over pasta, and sere with remaining bacon and green onions sprinkled on top.
Preparation time: 15 minute(s)
Cooking time: 15 minute(s)
Diet tags: Reduced fat, High protein
Number of servings (yield): 6
Culinary tradition: USA (General)
Calories: 249
Fat: 5.5g
Protein: 19g
Entire recipe makes 6 servings
Serving size is about 1 cup
Each serving = 7 Smart Points.6 Points
PER SERVING: 249calories; 5.5g fat; 3.49g saturated fat; 31g carbohydrate; 3.93g sugar; 19g protein; 3g fiber