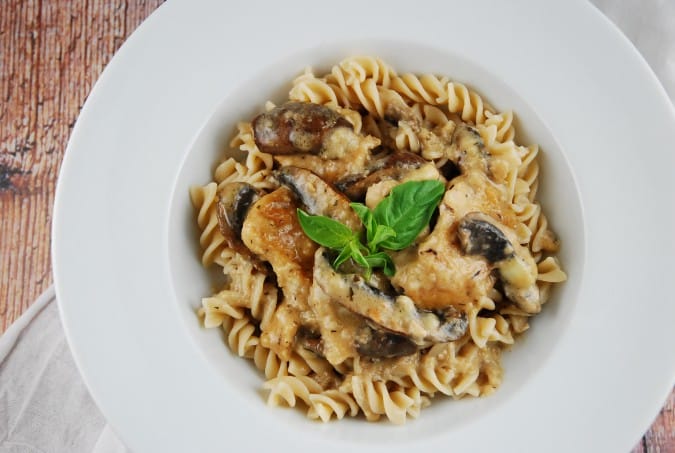 When I want a decadent pasta dish, this Mushroom Parmesan Chicken is one of my favorites. The wine really makes this recipe for me….it gives the chicken such a wonderful flavor. But if you aren't a wine drinker or don't like the flavor of wine, you can use chicken broth in place of the wine. Though, I don't really feel like it has the same oomph that way, so I wouldn't recommend it, if possible. There's something about the flavors of white wine and Parmesan cheese that just make me…well, for lack of a better word, salivate. The chicken turns out so tender and juicy, and the portobello mushrooms add a nice hearty, earthy flavor. Truly a delicious Weight Watchers chicken pasta recipe that is worth every single one of it's 8 Points value. Pair with a light salad for a perfect meal!
Mushroom Parmesan Chicken
Moist chicken cooked in a creamy mushroom, wine, and parmesan sauce and served atop whole wheat pasta, makes for one seriously good Weight Watchers dinner. This tastes decadent and satisfying!
Ingredients
8 oz whole wheat pasta
1 lb skinless, boneless chicken breasts, sliced into strips
1 lb portobello mushrooms, sliced
1 cup Parmesan cheese, grated
1 tbsp light butter
1/4 cup fat free chicken broth
5 garlic cloves, minced
1 tsp dried oregano
1 tsp dried basil
1 1/2 cups white wine
1 cup reduced fat milk
Salt and pepper to taste
Instructions
Prepare pasta according to package directions. Drain and set aside.
While pasta is cooking, set a large non-stick skillet over medium high heat and mist with cooking spray. Season chicken breast strips with salt and pepper, and add into the skillet. Sauté until golden brown on both sides, about 3-5 minutes per side. Add in the chicken broth as needed to keep the chicken tender and from sticking to the pan. Remove chicken from pan and set aside.
Using the same skillet, add in butter and melt, then add in the garlic and mushrooms. Cook until mushrooms become very tender, about 5 minutes.
Return the chicken to the skillet, along with the wine, oregano and basil. Bring to a boil, then reduce heat to low, cover, and let simmer for about 15 minutes, or until most of the wine has cooked off.
Stir in milk and Parmesan, and cook while continuously stirring until cheese melts and sauce is mostly thickened, about 3-5 minutes. Season with additional salt and pepper as desired
Spoon pasta evenly into 6 serving bowls, and top with the chicken mixture.
Preparation time: 10 minute(s)
Cooking time: 20 minute(s)
Diet tags: Reduced fat, High protein
Number of servings (yield): 6
Culinary tradition: USA (General)
Calories: 388
Fat: 8.5g
Protein: 30g
Entire recipe makes 6 servings
Serving size is about 3/4 cup pasta and 1 cup chicken and mushroom mixture
Each serving = 13 Smart Points/8 Points
PER SERVING: 388calories; 8.5g fat; 4.7g saturated fat; 592.35g carbohydrate; 4.5g sugar; 5.53g protein; 35.42g fiber