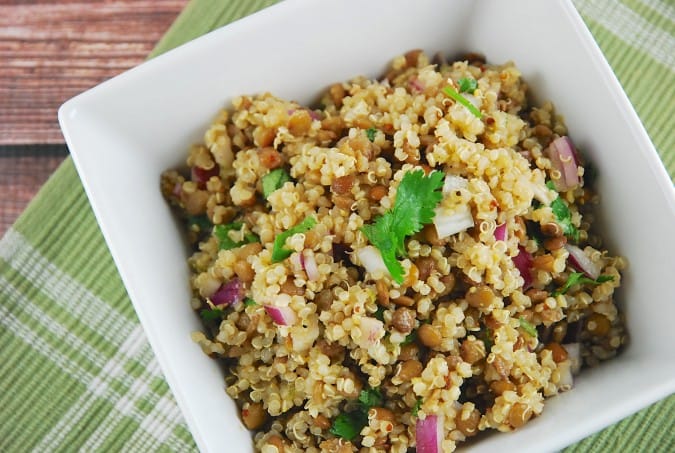 In an attempt to clean out my pantry last week, I discovered that I had 5 half used bags of quinoa and 3 half used bags of lentils….lol, I guess I should always check to see if I have these items on hand before buying more. So I got to work coming up with a Weight Watchers side dish recipe that would use both of these ingredients in the most delicious way possible. I came across Melissa D'Arabian's Lentil and Quinoa recipe, and decided to create a take on that. I was thrilled with how delicious and satisfying this dish was! Those lentils and quinoa really bulk up when you cook them, and they made this such a filling salad. Each serving came out to just 3 Points, which was a very pleasant surprise. Serve it cold or at room temperature, and it's an ideal dish for spring and summer. Present it with some grilled chicken and roasted vegetables at your next BBQ or potluck!
Quinoa and Lentil Salad
Delightfully flavored and highly nutritious, this quinoa and lentil salad has it all. It's an ideal Weight Watchers side dish to serve at summer BBQ's or picnics, and the leftovers taste even better the next day.
Ingredients
1/2 cup quinoa
1/2 cup green lentils, dry
2 cups fat free vegetable (or chicken) broth
1 tbsp olive oil
2 tbsp lime juice
1 tbsp red wine vinegar
1 tsp dijon mustard
2 garlic cloves, minced
1/3 cup red onion, diced
1/4 cup cilantro, chopped
Juice and zest from 1 small lime
Salt and pepper to taste
Instructions
Cook quinoa according to package directions.
Place warm quinoa in a medium sized bowl, and toss with garlic. Set aside.
Rinse lentils well with water, then place in a large sauce pan with vegetable broth. Bring to a simmer, and let cook on medium heat until lentils are tender, but not too soft…about 20-25 minutes. Drain and set aside to cool.
In a small bowl, whisk together the olive oil, mustard, red wine vinegar, lime juice and lime zest.
Add lentils to quinoa, and toss in remaining ingredients, then drizzle the dressing over everything and toss well to combine. Season with salt and pepper as desired. Serve cold or at room temperature
Preparation time: 10 minute(s)
Cooking time: 20 minute(s)
Diet type: Vegan
Diet tags: Low calorie, Reduced fat
Culinary tradition: USA (General)
Calories: 150
Fat: 4g
Protein: 8g
Entire recipe makes 6 servings
Serving size is 1/2 cup
Each serving = 4 Smart Points/3 Points
PER SERVING: 150calories; 4g fat; 1g saturated fat; 22g carbohydrate; 1g sugar; 8g protein; 3g fiber