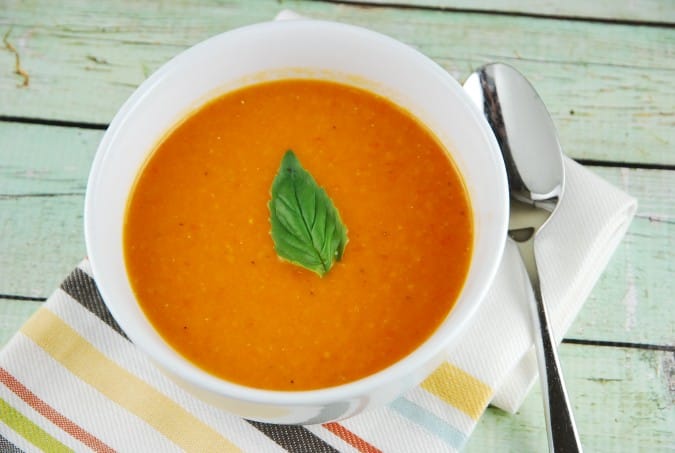 Summer weather may be kicking in here in CA, but I still crave a bowl of hot soup occasionally! Especially when I'm making grilled cheese sandwiches. But my light tomato soup is homemade from scratch and is absolutely perfect for spring or summer. Using fresh, whole tomatoes makes a HUGE difference in the flavor of the soup vs. buying the stuff that's pre-made in a can or a box. And it was incredibly quick and easy to make! Even my 5yr old loved eating some for dinner and taking leftovers in his lunch the next day. You could make this Classic Creamy Tomato Soup recipe even lighter by using a fat free or low fat ricotta cheese instead of the parmesan, but I think the parmesan adds such a beautiful flavor dimension, and I love it. Just 4 Points for a nice hearty serving…if you love tomato soup, you've gotta try this one!
Classic Creamy Tomato Soup
Fresh, light, and savory, this low calorie creamy tomato soup is a breeze to make and loaded with nutrition. Making a classic tomato soup from scratch makes such a big difference in the flavor and quality, and is not as much effort as you'd think.
Ingredients
2 lbs fresh tomatoes, chopped
1 medium yellow onion chopped
1 tbsp light butter
1 1/2 cups fat free chicken broth (or vegetable broth)
2 bay leaves
1/2 cup grated Parmesan cheese
1 cup 2% milk
Salt and pepper to taste
Instructions
Melt butter in a large sauce pan, over medium high heat. Add in onions and a pinch of salt, and cook until onions begin to soften, about 5 minutes.
Stir in tomatoes, and 1/2 cup of the broth, and cook until tomatoes begin to release their juices and break apart, about 8-10 minutes.
Add in remaining broth and bay leaves, reduce heat to low, cover and simmer for about 10 more minutes.
Stir in cheese and milk, and cook while continuously stirring, until cheese melts – about 2-3 minutes.
Remove from heat, discard bay leaves, and carefully puree with an immersion blender, or pour into a regular blender and puree until smooth. Ladle into 6 serving bowls.
Preparation time: 10 minute(s)
Cooking time: 25 minute(s)
Diet type: Vegetarian
Diet tags: Low calorie, Reduced fat, Reduced carbohydrate, Gluten free
Number of servings (yield): 4
Culinary tradition: USA (Traditional)
Calories: 180
Fat: 10g
Protein: 10g
Entire recipe makes 4 servings
Serving size is about 1 1/2 cups
Each serving = 7 Smart Points/4 Points
PER SERVING: 180calories; 10g fat; 4g saturated fat; 15g carbohydrate; 9g sugar; 10g protein; 5g fiber