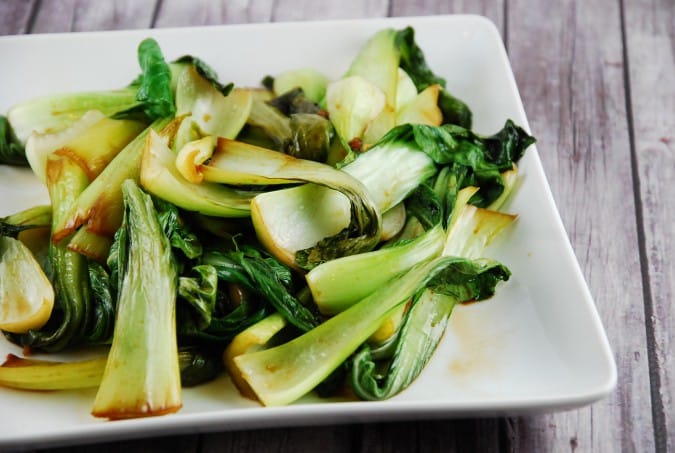 This Soy and Garlic Sautéed Bok Choy is my new vegetable obsession. It is soooooooo yummy, and I cannot get enough of it…I've been making it 2-3 times a week at least. It cooks up really fast and easy too, so I can add a healthy veggie side dish to my meals in just a matter of a few minutes. And bonus – bok choy is super cheap and loaded with nutrients (it's potassium levels are through the roof!) I like mine with lots of flavor, so I get a bit heavy handed with the garlic and soy. Feel free to use as much or as little of that as you like. I also like to occasionally add in some red pepper flakes for a little spice kick!
Soy and Garlic Sautéed Bok Choy
Salty, garliky, and perfectly cooked bok choy adds a huge helping of potassium and nutrients to your diet while offering an incredibly delicious, low calorie side dish. Just 2 Points per serving!
Ingredients
3 heads of bok chok, washed and trimmed
4 garlic cloves, minced
2 tsp sesame oil
3 tbsp reduced sodium soy sauce
Juice from 1/2 a lime
Instructions
Heat oil in a large skillet or wok, over medium high heat. Add in garlic, and sauté just until fragrant, about 1 min.
Add in bok choy, lime juice and soy sauce, and cook until bok choy wilts, about 3-4 minutes. Serve immediately.
Preparation time: 5 minute(s)
Cooking time: 5 minute(s)
Diet type: Vegan
Diet tags: Low calorie, Reduced fat, Reduced carbohydrate, High protein, Gluten free
Number of servings (yield): 4
Culinary tradition: Chinese
Calories: 109
Fat: 2g
Protein: 11g
Entire recipe makes 4 servings
Serving size is about 1 cup
Each serving = 4 Smart Points/2 Points
PER SERVING: 116calories; 4g fat; 1g saturated fat; 16g carbohydrate; 8g sugar; 11g protein; 6g fiber