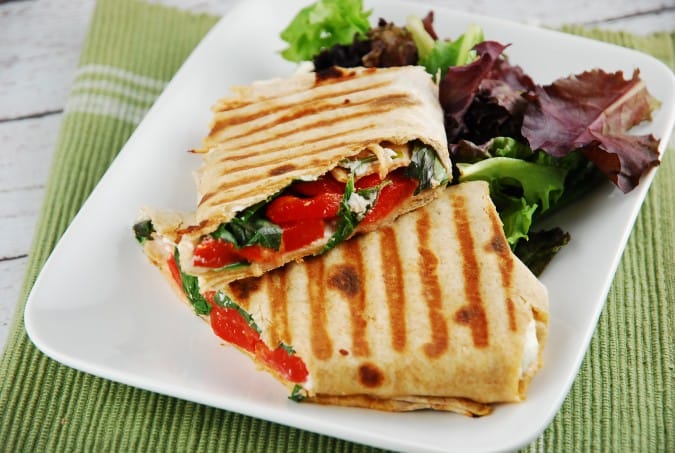 Years ago for my wedding, I got this amazing panini press
, and I have to say, it is one of the most used appliances in my kitchen. I am obsessed with making wraps, paninis, grilled cheese sandwiches, and so many other yummy things on it. My latest favorite Weight Watchers lunch recipe to hit my panini grill is this Roasted Red Pepper and Goat Cheese Wrap….it is SO mouthwateringly good! And HUGE. The warm, melty goat cheese goes perfectly with the smoky bell pepper and the fresh basil. It's a complete explosion of flavor in your mouth. You could absolutely make this wrap cold, if you prefer, but I recommend it warm. If you don't have a panini press, you could use an oven/toaster oven instead. And just 8 Points for the whole huge wrap, makes this recipe a staple vegetarian meal for me. Enjoy!
Roasted Red Pepper and Goat Cheese Wrap
Amazingly flavorful, filling and healthy, this warm wrap is one of my favorite Weight Watchers lunch recipes. The tart, creamy goat cheese is a perfect complement to the red pepper and basil. Serve with a fresh salad or soup and enjoy!
Ingredients
1 sheet of whole wheat lavash bread
1 oz goat cheese
4 slices roasted red bell pepper (about 1 whole pepper)
4 basil leaves
A few slices of red onion
Handful of fresh greens
Instructions
Preheat panini press.
Spread goat cheese on lavash bread. Top with remaining ingredients. Fold in sides, and roll up into wrap.
Place in panini press, close and heat until bread is toasted and inside of sandwich is warm and goat cheese is melted, about 2-4 minutes.
Preparation time: 5 minute(s)
Cooking time: 5 minute(s)
Diet type: Vegetarian
Diet tags: Reduced fat, High protein
Number of servings (yield): 1
Culinary tradition: USA (General)
Calories: 211
Fat: 7g
Protein: 13g
Entire recipe makes 1 serving
Serving size is 1 wrap
Each serving = 6 Smart Points/8 Points
PER SERVING: 211calories; 7g fat; 5g saturated fat; 31g carbohydrate; 0g sugar; 12g protein; 15g fiber