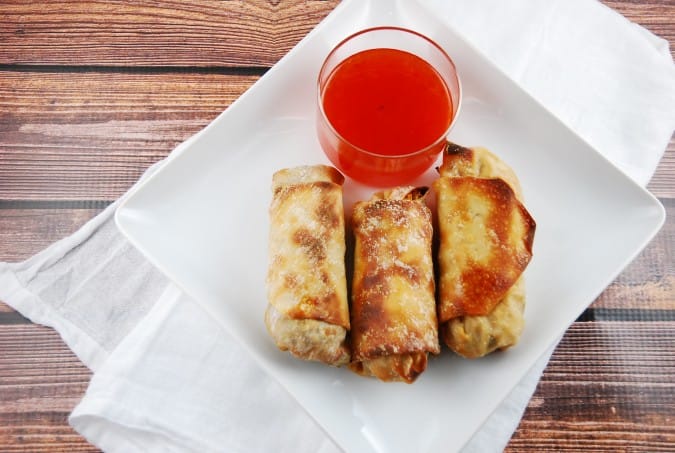 You guys. THESE ARE FANTASTIC. No need to beat around the bush, these Baked Vegetable Egg Rolls were absolutely out of this world! Truly, they tasted just as good as the fried ones you buy at your favorite Chinese Food restaurant, if not better. I've been having a real hankering for egg rolls lately, so I did some research online and combined a few ideas, and thus this Baked Vegetable Egg Rolls Recipe was born. It was total perfection. And each serving is just 5 Points (for 2 big egg rolls, NOT including the dipping sauce). My dipping sauce of choice was a sweet chili sauce, but you can use whichever kind you like…hot mustard, peanut lime, sirracha….endless possibilities. I will now be making my own egg rolls on a very regular basis.
Baked Vegetable Egg Rolls
These Baked Egg Rolls taste way too good to be as light and as healthy as they are! Perfect, authentic Asian flavors, but way lower in fat and calories.
Ingredients
12 egg roll wrappers
3 cups shredded cabbage
2 cups broccoli slaw (Trader Joe's has a great one!)
2 medium carrots, shredded (about 1 cup)
4 green onions, finely chopped
1 tsp sesame oil
1 inch piece of fresh ginger, peeled and grated
2 garlic cloves, minced
3 tbsp reduced sodium soy sauce
2 tbsp rice vinegar
1/4 tsp ground black pepper
Instructions
In a large bowl, toss together the cabbage, broccoli slaw, carrots, and green onions.
Heat sesame oil over medium high heat in a large, nonstick skillet. Add in garlic and ginger, and sauté just until fragrant, about 30 seconds. Add in cabbage mixture, soy sauce, vinegar, and black pepper. Cook, tossing frequently, just until it begins to become tender, about 4-5 minutes.
Place the cooked cabbage mixture in a bowl, and refrigerate, uncovered, for about 45 minutes.
Preheat oven to 425. Line a large baking sheet with parchment paper and lightly mist with cooking spray.
Spoon some of cabbage mixture (about a heaping 1/4 cup) onto an egg roll wrapper. Fold in at the sides and roll up. Place on baking sheet, seam side down. Repeat with remaining egg roll wrappers. Lightly mist with cooking spray and place into the oven.
Bake for 10 minutes, then turn over and bake for another 10 minutes, or until golden brown all over. Let cool for about 5 minutes before serving.
Preparation time: 20 minute(s)
Cooking time: 20 minute(s)
Diet type: Vegetarian
Diet tags: Low calorie, Reduced fat
Number of servings (yield): 6
Culinary tradition: Chinese
Calories: 210
Fat: 1g
Protein: 7g
Entire recipe makes 6 servings
Serving size is 2 egg rolls
Each serving = 5 Points
PER SERVING: 210 calories; 1g fat; 42g carbohydrates; 7g protein; 3g fiber