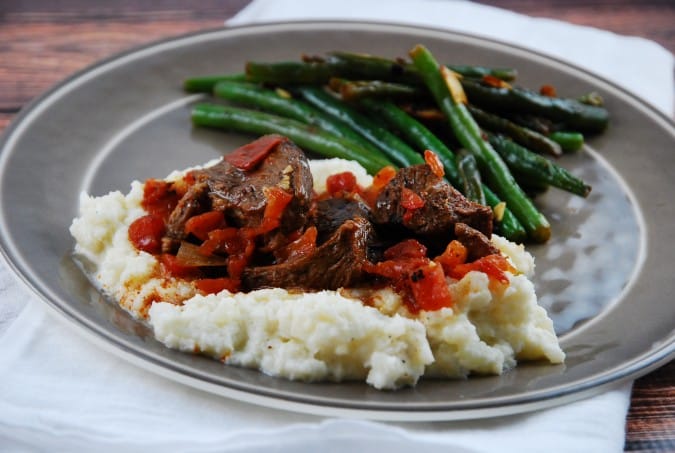 For a fancy Friday night dinner, I put together this Slow Cooker Garlic Beef and Cauliflower Mash Recipe. It tasted so unbelievably good…like I had spent all day in the kitchen toiling over a hot stove. But really, my slow cooker did all the work. The beef was tender, juicy and perfectly flavored. And instead of standard mashed potatoes, I steamed some cauliflower and mashed it together with a bit of light butter and sour cream. It was pure perfection….and just 8 Points. The mashed cauliflower was a perfect vehicle for the sauce that the beef cooked in too. I served it with my Lemon and Butter Green Beans (I also threw in some toasted almond slices and minced garlic to those green beans – sooooo good!) Overall, a fantastic Weight Watchers dinner recipe that I high recommend trying.
Slow Cooker Garlic Beef and Cauliflower Mash
Succulent, savory, slow-cooked beef, simmering in a garlicky tomato sauce and served on top of a creamy, velvety cauliflower puree, this is one luxurious meal. Healthy and light, but incredibly flavored, your family will think you slaved over the stove top all day.
Ingredients
2 lbs lean beef stew meat, cubed
1 large onion, finely chopped
5 cloves garlic, minced
1 14-15oz can diced tomatoes with roasted garlic
1 cup fat free beef broth
2 tbsp Worcestershire sauce
1 tbsp smoked paprika
1 large head cauliflower
2 tbsp light butter
1/4 cup fat free sour cream
Salt & pepper to taste
Instructions
Mist a large, nonstick skillet with cooking spray and set over medium high heat. Season beef cubes generously with salt and pepper, and then brown in skillet, until the outsides of the beef cubes are browned well. Place beef in crock pot.
Add in diced tomatoes, broth, Worcestershire sauce, paprika, garlic and onions and stir.
Cover and cook on low for 8-10 hours.
About 15 minutes before ready to serve, steam or boil cauliflower until tender. Drain and place in a large bowl. Add in butter and sour cream, and mash well with a potato masher, making sure to combine in the butter and sour cream as you mash. Season with salt and pepper as desired.
Serve beef and sauce over the cauliflower mash.
Preparation time: 15 minute(s)
Cooking time: 8 hour(s)
Diet tags: Reduced fat, Reduced carbohydrate, High protein, Gluten free
Number of servings (yield): 6
Culinary tradition: USA (General)
Calories: 326
Fat: 13g
Protein: 34g
Entire recipe makes 6 servings
Serving size is about 1/2 cup cauliflower and 3/4 cup beef with sauce
Each serving = 8 Points
PER SERVING: 326 calories; 13g fat; 14.5g carbohydrates; 34g protein; 4g fiber