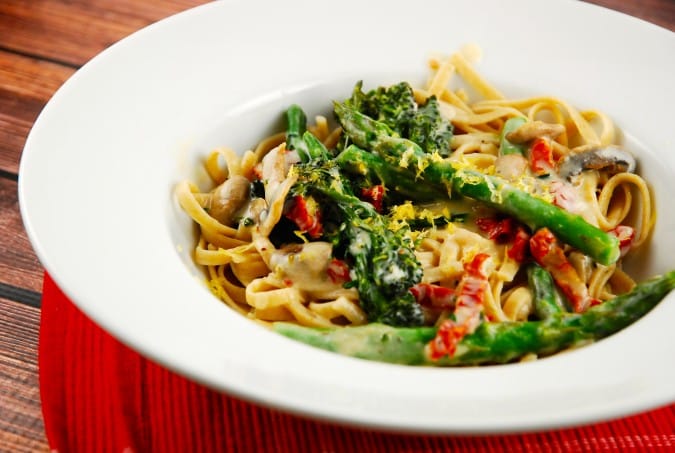 This Vegetable Alfredo was absolutely AMAZING! It's hard to believe that something so simple could be so fantastic, but it is. The huge selection of vegetables is what makes this alfredo go from simple to stupendous. I love the variety of textures and flavors, all covered with a creamy sauce and a sprinkle of lemon zest to add an extra little burst of flavor. You can use any kind of veggies you want in this Weight Watchers Pasta Recipe, so feel free to experiment. But I highly recommend keeping the sun-dried tomatoes, as they are so amazing in this recipe. Just make sure not to use the kind packed in oil, as that will add more Points. Enjoy!
Vegetable Alfredo
One of the most delicious ways to enjoy vegetables is in this divine Vegetable Alfredo Pasta dish. Healthy and incredibly flavorful, you'll be shocked at how good it is for you!
Ingredients
8oz whole wheat pasta
1 lb asparagus, trimmed and chopped
1.5 oz (about 1/3 cup) sun-dried tomatoes (NOT oil-packed)
8oz fresh mushrooms, sliced
1 lb fresh broccoli
2 tbsp light butter
2 tbsp whole wheat flour
3 garlic cloves, minced
1/2 cup grated Parmesan cheese
1 1/4 cups fat free milk
Zest of 1 lemon
Salt and pepper to taste
Instructions
Cook pasta according to package directions. Drain and set aside.
While pasta is cooking, mist a large, nonstick skillet with cooking spray or an olive oil mister and set over medium high heat.
Add in vegetables, garlic, and some salt and pepper, and sauté until vegetables are tender, about 5-7 minutes. Set aside.
In a small saucepan, melt butter over medium high heat. Whisk in flour, and cook for about 1 minute. Slowly whisk in milk, and continue cooking and whisking until thickened and bubbly. Stir in parmesan cheese, and whisk until melted.
Divide pasta and vegetables evenly into 4 serving bowls. Top with sauce. Then sprinkle a bit of lemon zest over each serving.
Preparation time: 15 minute(s)
Cooking time: 20 minute(s)
Diet type: Vegetarian
Diet tags: Low calorie, Reduced fat, High protein
Number of servings (yield): 6
Culinary tradition: Italian
Calories: 251
Fat: 6g
Protein: 15g
Entire recipe makes 4 servings
Serving size is about 1 1/2 cups
Each serving = 8 Smart Points/8 Points
PER SERVING: 251calories; 6g fat; 3g saturated fat; 40g carbohydrate; 7g sugar; 15g protein; 8g fiber