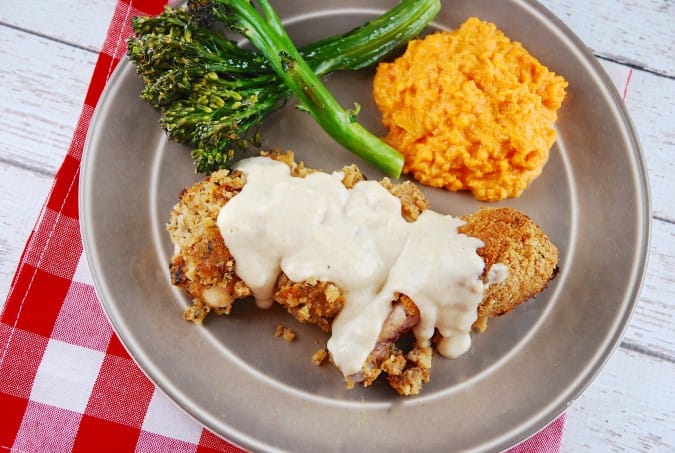 This Weight Watchers Chicken Recipe for Country Fried Chicken with Gravy is one of my absolute favorite dishes. That gravy….it is to die for! The chicken is tenderized in a buttermilk marinade then breaded and baked for a crispy finish with tender and juicy breast meat inside. Smothered with some of that heavenly country gravy, and you'll be lost in a fit of tastebud ecstasy! I often make this with a mix of chicken breasts, drumsticks and thighs, since the rest of my family prefers the dark meat, but I only eat the breasts to save the extra Point or two. If you want to splurge a bit, serve this over one of these Whole Wheat Buttermilk Biscuits for an extra 3 Points….it's sooooo good! Just 7 Points per serving makes this classic recipe a perfect, lower calorie Weight Watchers comfort food recipe that will have you completely forgetting that you are on a diet.
Country Fried Chicken with Gravy
A big country cooking taste with a Weight Watchers friendly amount of Points, this faux-fried chicken tastes positively angelic. The thick, creamy country gravy gives it such a wonderfully comforting and hearty feel, leaving you pleasantly satisfied.
Ingredients
2 lbs skinless, boneless chicken breasts, cut into 6 fillets
3 1/2 cups fat free buttermilk
1 cup fat free chicken broth
1 cup Panko breadcrumbs
1 tsp onion powder
1 tsp garlic powder
1 tsp paprika
1/2 cup liquid egg substitute
3/4 cup while wheat flour
2 tbsp light butter
1 tsp poultry seasoning
Salt & pepper to taste
Instructions
Place chicken and 2 cups of the buttermilk in a large bowl, cover and refrigerate for at least 2 hours or overnight.
Preheat oven to 425 degrees, and spray a large wire rack with nonfat cooking spray. Place the rack over a large baking dish or baking sheet.
Remove chicken from buttermilk. Pat dry a bit with paper towels, and then season the chicken with salt and pepper.
In a large Ziploc bag, combine 1/2 cup flour, onion powder, garlic powder, and paprika. Shake well to mix. Place chicken pieces in bag and shake well until all pieces of chicken are evenly coated.
Place liquid egg substitute in one bowl and the Panko, thyme, and salt & pepper in another bowl. Dip each piece of chicken in egg, shake off excess, then dip into Panko and turn to coat well.
Arrange the chicken pieces on the wire rack and place in the oven. Cook for 15 minutes then, lower the heat to 375 degrees, and cook for another 20 to 25 minutes, or until cooked through and crispy.
While chicken is cooking, make the country gravy by melting butter in a medium sized saucepan over medium high heat. Whisk in flour, and cook for about another minute. Slowly whisk in the remaining 1 1/2 cups buttermilk,1/2 cup of the broth, and the poultry seasoning, whisking constantly and blending the liquid with the flour mixture until combined. Let the gravy come to a boil and then reduce heat and simmer until the gravy thickens up. If the mixture thickens too much, add more broth as needed until the gravy is the consistency that you want.
Serve each chicken fillet, topped with about 1/3 cup of the country gravy.
Preparation time: 15 minute(s)
Cooking time: 40 minute(s)
Diet tags: Low calorie, Reduced fat, High protein
Number of servings (yield): 6
Culinary tradition: USA (Southern)
Calories: 257
Fat: 5.4g
Protein: 17.8g
Entire recipe makes 6 servings
Serving size is 1 piece of chicken with 1/3 cup gravy
Each serving = 8 Smart Points/7 Points
PER SERVING: 257calories; 5.4g fat; 2.3g saturated fat; 33g carbohydrate; 8.8g sugar; 17.8g protein; 1.5g fiber