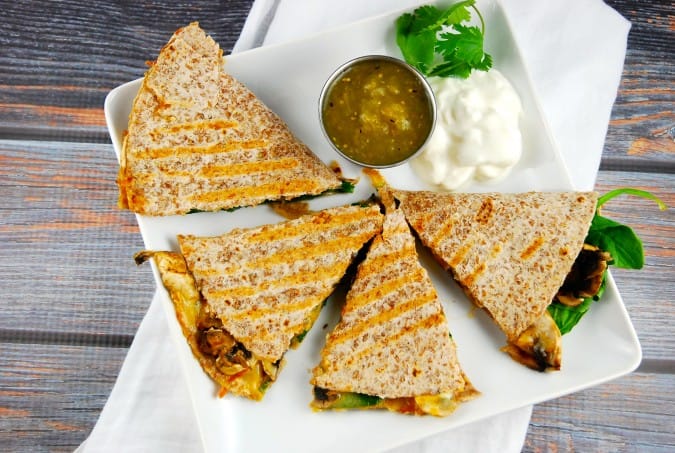 Cheese is, without a doubt, my most favorite food in the world. I eat it in all forms and varieties, and am always finding delicious ways to incorporate it into my Weight Watchers recipes. This Spinach and Mushroom Quesadilla recipe is such a simple and basic dish that takes just minutes to make, and clocks in at just 4 Points per serving, so it's another fantastic, low Points recipe that lets me indulge in my beloved cheese! By using a low carb tortilla, and volumizing it with lots of fresh baby spinach and sliced mushrooms, the quesadilla becomes very filling and satisfying, and also keeps the nutritional stats low enough to let me be generous with the cheese. Presented with a light soup or salad, it makes a perfect low calorie lunch. Serve with some salsa and low fat sour cream (1 extra Point) for dipping!
Spinach and Mushroom Quesadilla
A quick and easy Weight Watchers lunch recipe, this quesadilla is absolutely delicious and full of nutrition. A high fiber, low carb tortilla allows for a bit of extra "spending" with the cheese, and the mushrooms and spinach give added flavor and volume.
Ingredients
6 large whole wheat low carb, high fiber tortillas (I used La Tortilla Factory)
8 oz fresh mushrooms, sliced
5 oz fresh baby spinach leaves
1 cup reduced fat Mexican style cheese blend, shredded
Instructions
Lay 3 tortillas on a flat surface. Divide cheese, mushrooms and spinach evenly over each, then place the remaining 3 tortillas on top.
Place on a baking sheet lined with parchment paper, and toast in the toaster oven until cheese melts and tortillas begin to crisp, flipping over once halfway through. Or, for best results, place in a panini press and cook until cheese is melted and tortilla begins to crisp.
Cut each quesadilla into eighths, and serve 4 wedges per serving, with condiments of choice.
Preparation time: 5 minute(s)
Cooking time: 5 minute(s)
Diet type: Vegetarian
Diet tags: Low calorie, Reduced fat, Reduced carbohydrate, High protein
Number of servings (yield): 6
Culinary tradition: Mexican
Calories: 193
Fat: 8g
Protein: 10g
Entire recipe makes 6 servings
Serving size is 4 wedges
Each serving = 6 Smart Points/4 Points
PER SERVING: 193calories; 8g fat; 4g saturated fat; 22g carbohydrate; 2g sugar; 10g protein; 5g fiber