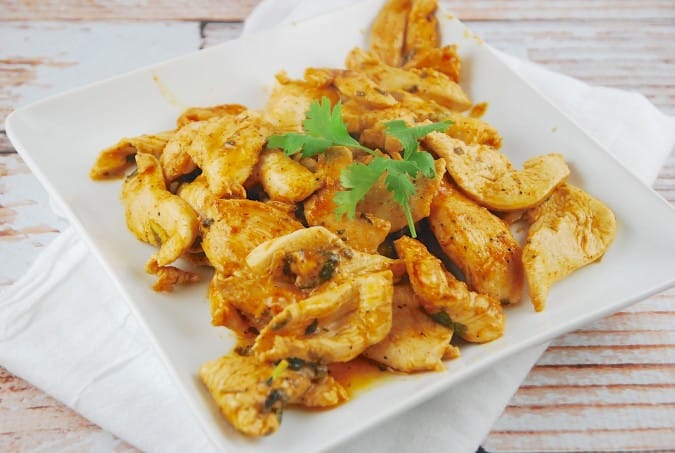 I'm often asked how I have the time to cook so many healthy, low calorie meals, while still managing to have a life. I totally get that food shopping, food prep, and cooking can be very time consuming and tedious at times. So, one of the things I like to do when I have a busy week ahead, is to cook up this Cilantro Lime Chicken, and store it in the fridge or freezer. It's one of my basic, staple, go-to chicken recipes that is super easy to make and can be used in many different ways. This way, I have chicken that's light, healthy, and ready to go when I need to put together a meal quickly. It's so incredibly flavorful, and works wonderfully in a variety of Weight Watchers Recipes. Use it for wraps, on salads, in soups, or over rice and beans…it's incredibly versatile. I will often make double or triple the recipe and serve some as dinner one night too. it's really SO delicious, and having it readily available to me on the days that I don't feel like/don't have the time to cook, is a HUGE key to successfully keeping me on track. And with the 4th of July coming up this Friday, I'm planning on using this recipe with whole chicken breasts, thighs, and drumsticks to cook on the grill! Much healthier than traditional burgers and hot dogs, this Cilantro Lime Chicken would make a fantastic Weight Watchers Fourth of July Recipe.
Cilantro Lime Chicken
Tender and incredibly flavored chicken that can be used in a variety of Weight Watchers Recipes. At just 4 Points per serving, this chicken tastes way too good to be true.
Ingredients
1 lb skinless, boneless chicken breasts
1 tbsp olive oil
Juice from 2 small limes
1 tsp salt
1/2 tsp black pepper
2 garlic cloves, minced
1 tsp ancho chile powder
1/3 cup cilantro, finely chopped
Instructions
In a large bowl, whisk together olive oil, lime juice, garlic, chile powder, salt, pepper and cilantro.
Slice chicken breasts into thin strips or bite sized pieces, and place into lime juice marinade. Make sure all pieces are covered. Cover bowl with lid or plastic wrap, and let sit for at least 1 hour.
Place a large, nonstick skillet over medium high heat.
Add in chicken pieces and cook for about 4-5 minutes on each side, or until chicken is cooked through.
Preparation time: 10 minute(s)
Cooking time: 10 minute(s)
Diet tags: Low calorie, Reduced fat, Reduced carbohydrate, High protein
Number of servings (yield): 4
Culinary tradition: Mexican
Calories: 154
Fat: 5g
Protein: 24g
Entire recipe makes 4 servings
Serving size is about 1/2 cup chicken
Each serving = 4 Points
PER SERVING: 154 calories; 5g fat; 1g carbohydrates; 24g protein; 0g fiber