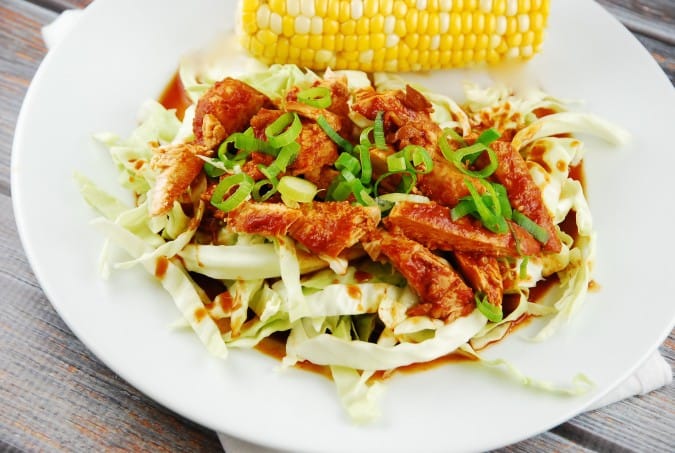 It's been a busy few weeks around my house lately. With both of my kids in summer camp only 3 half days a week, I have my hands full at home, and have been relying a lot on my crock pot to get dinner done. One of the most delicious and easy Weight Watchers Crock Pot recipes I've made is this fantastic Sweet and Spicy Sriracha Chicken. It has all the flavors I crave in one light and tasty dish – it's sweet, salty and spicy! I like to serve it over a bed of shredded cabbage and use the sauce as a dressing for the cabbage, which makes for a great, low Points meal. When I want something more filling, I'll serve it over steamed brown rice, and again using the extra sauce to make the rice more flavorful. This is an easy, reliable and incredibly delicious dish that is a must make if you like spicy. :)
Sweet and Spicy Sriracha Crock Pot Chicken
Sweet, spicy, salty…this Weight Watchers chicken recipe has all the flavors you crave, yet is still light enough to be just 5 Points per serving. And the next to nothing prep makes it a breeze to prepare.
Ingredients
2 lbs skinless, boneless chicken breasts, sliced into strips
4 cloves garlic, minced
1 tbsp sesame oil
1/4 cup sriracha sauce
2 tbsp honey
1/4 cup tomato paste
1/3 cup reduced sodium soy sauce
3 tbsp rice vinegar
Instructions
Place chicken in crock pot.
Whisk together remaining ingredients in a bowl, and pour over chicken.
Cook on low for 6 hours.
Preparation time: 10 minute(s)
Cooking time: 6 hour(s)
Diet tags: Low calorie, Reduced fat, Reduced carbohydrate, High protein
Culinary tradition: USA (Nouveau)
Calories: 213
Fat: 4.5g
Protein: 33g
Entire recipe makes 6 servings
Serving size is about 1/6th of recipe
Each serving = 5 Smart Points/5 Points
PER SERVING: 216calories; 4.5g fat; 1.87g saturated fat; 9.5g carbohydrate; 7.26g sugar; 33g protein; 1g fiber