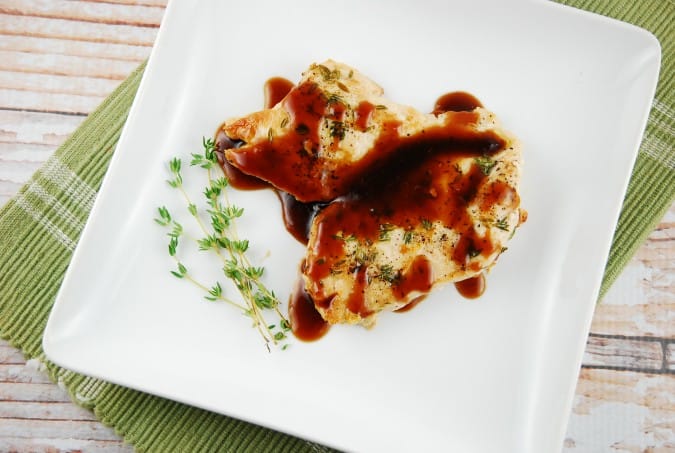 The flavors of this Apricot Balsamic Chicken are absolutely divine – sweet, tangy, salty…it's truly mouthwatering. The chicken breasts are seasoned with salt, pepper, and fresh thyme and sautéed quickly. Then they are topped with the most delicious apricot balsamic sauce, that will have you licking the spoon. A bargain at just 5 Points, this Weight Watchers Recipe tastes way too good to be true. It's a quick and easy dinner that can be prepared within minutes, and involves no prep work. It's become my new favorite chicken recipe! Enjoy.
Apricot Balsamic Chicken
A simple chicken dish become elevated with the bold and decadent apricot preserves and balsamic sauce. Sweet and tangy, the sauce is a perfect complement to the thyme seasoned chicken.
Ingredients
1 1/2 lbs skinless, boneless chicken breasts, cut into 4 fillets
1 1/2 tsp fresh thyme leaves
1/3 cup reduced sugar apricot preserves
2 tbsp balsamic vinegar
Salt & pepper to taste
Instructions
Mist a nonstick skillet with cooking spray or an olive oil mister and set over medium high heat.
Season chicken breasts with salt, pepper and thyme.
Add chicken to pan, and cook for about 5-7 minutes on each side, or until chicken is cooked through. Remove chicken from pan, and set aside.
Lower heat to medium, and add apricot preserves and balsamic vinegar to pan. Stir constantly until jam has liquefied and sauce is well heated.
Plate chicken and spoon sauce over it just before serving.
Preparation time: 5 minute(s)
Cooking time: 15 minute(s)
Diet tags: Low calorie, Reduced fat, Reduced carbohydrate, High protein
Number of servings (yield): 4
Culinary tradition: USA (General)
Calories: 232
Fat: 2.5g
Protein: 36g
Entire recipe makes 4 servings
Serving size is 1 chicken breast with sauce
Each serving = 6 Smart Points/5 Points
PER SERVING: 232calories; 2.5g fat; 1.74g saturated fat; 13g carbohydrate; 12.77g sugar; 36g protein; 0.27g fiber