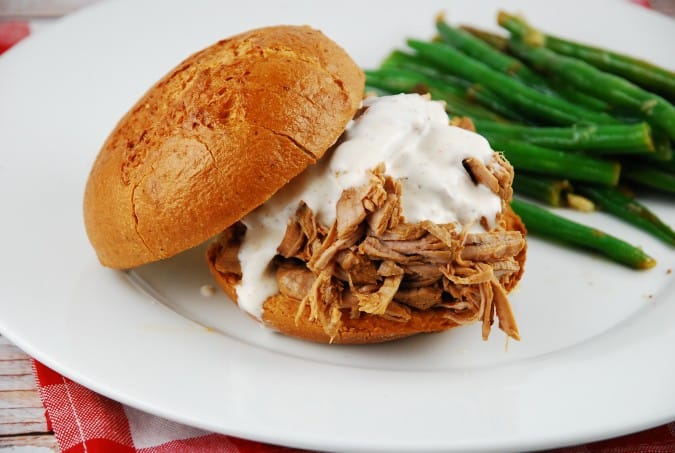 For those of of you who may have never cooked a pork tenderloin before, this Pulled Pork Sandwich Recipe with White Barbecue Sauce will be one of the easiest you've ever made. The pork is cooked to juicy perfection in just an hour. It's simmered in a broth that has been well seasoned and flavored, then shredded and smothered in a creamy, tangy, white barbecue sauce. It's a very lean cut of meat that delivers an incredible flavor, which allows for a bit of indulgence with a carb-heavy sandwich roll. You could shave off a couple of Points by using a sandwich thin with this Weight Watchers Pork Recipe, if you prefer, but I like it best with a nice big hearty roll – totally worth those coupe of extra Points. Enjoy!
Pulled Pork Sandwich with White BBQ Sauce
These pulled pork sandwiches taste way too good to be just 9 Points. Tender, juicy, succulent pork tenderloin smothered in a creamy white BBQ sauce, is sure to make your mouth happy.
Ingredients
6 whole wheat rolls
1 1/2 lbs pork tenderloin
1/2 cup apple cider vinegar, plus 1 1/2 tbsp
1/3 cup fat free chicken broth
3 tbsp brown sugar
1 tsp garlic powder
1/2 tsp paprika
1 tsp chili powder
2 tsp salt
1 tsp black pepper
1/4 cup plain, non-fat Greek yogurt
1/4 cup reduced fat mayonnaise (like Vegenaise)
1 1/2 tbsp vinegar
1/2 tsp chipotle chili powder
1 garlic clove, minced
Juice from 1/2 a lemon
Salt & pepper to taste
Instructions
In a small bowl, combine mayo, yogurt, lemon juice, 1 1/2 tbsp vinegar, chipotle chili powder, garlic, and salt & pepper to taste. Mix well. Cover and refrigerate for at least 1 hour.
Combine the 1/2 cup apple cider vinegar, chicken broth, brown sugar, paprika, chili powder, garlic powder and salt & pepper in a medium sized saucepan and set over medium high heat.
Cut pork tenderloin into large chunks, place in saucepan, cover, and reduce heat to a simmer.
Cook for 1 hour or until tender. Remove pork from cooking liquid and shred with 2 forks. Place pork back into cooking liquid.
Top 1/2 of each sandwich roll with 1/6th of the pork. Then top with 1/6th of the white barbecue sauce. Add remaining 1/2 of sandwich roll on top.
Preparation time: 15 minute(s)
Cooking time: 1 hour(s)
Diet tags: Reduced fat, High protein
Number of servings (yield): 6
Culinary tradition: USA (Southern)
Calories: 349
Fat: 11g
Protein: 29g
Entire recipe makes 6 servings
Serving size is 1 sandwich with sauce
Each serving = 10 Smart Points/9 Points
PER SERVING: 349calories; 11g fat; 4g saturated fat; 32g carbohydrate; 11g sugar; 29g protein; 4g fiber