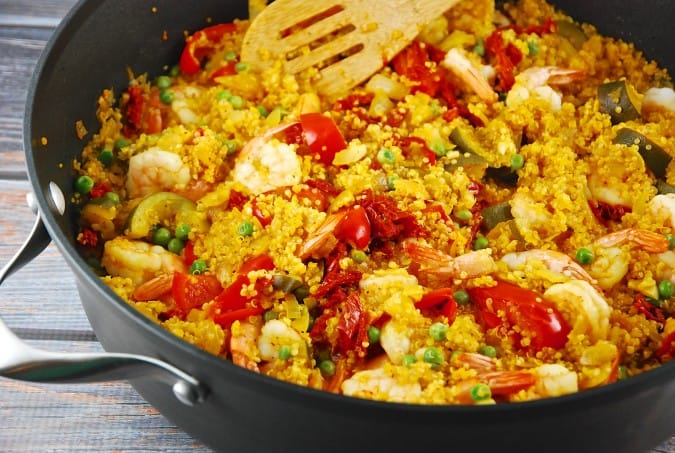 Oh how I LOVED this Shrimp and Quinoa Paella Recipe!! I had recently had some traditional Spanish paella at a local restaurant, and it was sooooo good, it got the wheels turning in my head about how to create a healthier, lighter version of this popular dish. I decided to sub out the rice for quinoa, and I also bulked up the dish with more vegetables. Still using the traditional Spanish seasonings, my low calorie paella really was incredible. It was so flavorful and filling, and made an absolutely perfect Weight Watchers dinner recipe. We'll be making this one again and again! Enjoy.
Shrimp and Quinoa Paella Recipe
A traditional Spanish Paella recipe gets a healthy makeover in this low calorie version. Substituting quinoa for rice adds lots of protein and fiber, while still maintaing the delicious, hearty flavor.
Ingredients
1 lb uncooked shrimp
1 cup quinoa, rinsed
1 large yellow onion, finely chopped
2 medium-large sized zucchini, chopped
2 1/2 cups fat free chicken broth
1 cup peas, fresh or frozen
1 large bell pepper, cut into strips
1/2 cup sun-dried tomatoes (not packed in oil)
3 garlic cloves, mined
1 tbsp olive oil
1 tsp smoked paprika
Generous pinch of saffron threads
1 bay leaf
1 tsp crushed red pepper flakes
Zest from 1 lemon
Salt & pepper to taste
Instructions
Heat oil in a large skillet over medium high heat. Add in onions and garlic, and sauté until just tender, about 2 minutes.
Stir in bell pepper strips and cook for another 3-4 minutes.
Add in quinoa, chicken broth, saffron (make sure to rub saffron threads together with fingertips to release the flavor when adding in), bay leaf, paprika, red pepper flakes, lemon zest, salt & pepper. Cover and bring to a boil.
Reduce heat to a simmer (medium-low), and continue to cook until most of the liquid is absorbed, about 12-15 minutes.
Add in shrimp, peas, zucchini, and sun-dried tomatoes. Cover and cook until shrimp is no longer pink, about 5-8 minutes. Season with additional salt and pepper as desired
Preparation time: 15 minute(s)
Cooking time: 30 minute(s)
Diet type: Pescatarian
Diet tags: Low calorie, Reduced fat, High protein
Number of servings (yield): 6
Culinary tradition: Spanish
Calories: 275
Fat: 5g
Protein: 24g
Entire recipe makes 6 servings
Serving size is approx 1 1/2 cups
Each serving = 7 Smart Points/7 Points
PER SERVING: 275calories; 5g fat; 1g saturated fat; 35g carbohydrate; 5g sugar; 24g protein; 5g fiber