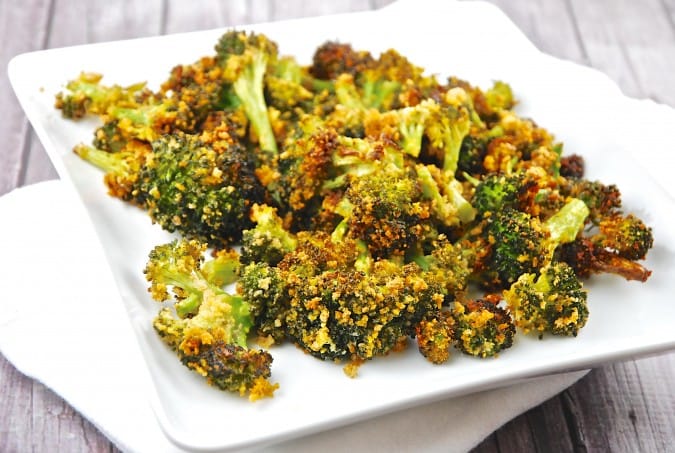 This Roasted Parmesan Garlic Broccoli Recipe got my 5 year old to eat his whole serving of broccoli. Need I say more? It's child-approved!! But of course, I was also a huge fan. Roasting vegetables are always my preferred way of cooking and consuming them, but topping them off with garlic, parmesan and crispy Panko only makes it better. A bit of fresh lemon juice brightens up the flavors and adds just the right amount of acidity. Each 1 cup serving is just 3 Points, making this a wonderful Weight Watchers side dish recipe that can be prepared quickly and easily.
Roasted Parmesan Garlic Broccoli
Deliciously flavored roasted broccoli adds a whole new dimension to dinnertime with this fantastic Weight Watchers recipe. It's a quick and easy dish that takes minimal effort but delivers maximum results.
Ingredients
1lb fresh broccoli florets
1 tbsp olive oil
3 garlic cloves, minced
1/3 cup whole wheat panko breadcrumbs
1/4 cup grated parmesan cheese
Juice from 1 small lemon
Salt & pepper to taste
Instructions
Preheat oven to 425 degrees. Line a medium sized baking sheet with parchment paper and mist with cooking spray.
In a large bowl, toss broccoli with olive oil. Coat well. Then season with salt, pepper and garlic; toss well.
Add in parmesan and panko, and toss again. Spread broccoli evenly onto baking sheet; squeeze lemon juice over top, and place in oven.
Roast for about 20 minutes, or until broccoli is browned well.
Preparation time: 5 minute(s)
Cooking time: 20 minute(s)
Diet type: Vegetarian
Diet tags: Low calorie, Reduced fat, Reduced carbohydrate
Number of servings (yield): 4
Culinary tradition: USA (General)
Calories: 119
Fat: 5g
Protein: 7g
Entire recipe makes 4 servings
Serving size is about 1 cup
Each serving = 4 Smart Points/3 Points
PER SERVING: 119calories; 5g fat; 2g saturated fat; 12g carbohydrate; 3g sugar; 7g protein; 4g fiber