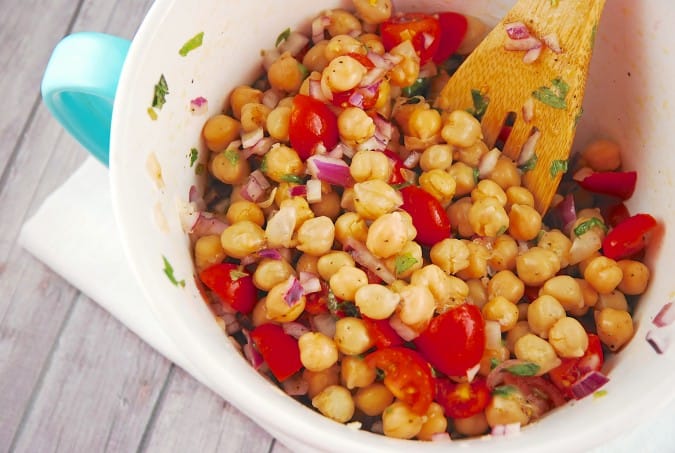 In an effort to up my legume intake, I whipped up this tasty little Garbanzo Bean Salad last week, and I fell in love. It's so incredibly simple, take just a few minutes, and is absolutely delicious. The nutty garbanzo bean is combined with fresh cherry tomatoes, a touch of fresh mint, and then tossed with a handmade lemon garlic dressing. It's so easy, yet delivers quite an impact. Not only is it tasty, but it's incredibly filling and satisfying. You can also play around with this Weight Watchers recipe, using half garbanzo beans and half black beans, if you like. Or bulk it up with more vegetables like diced cucumbers or bell peppers. I like to make a batch, and then have some as a snack before dinner so I don't overdo my portions at mealtime. This is truly a fantastic Weight Watchers Salad Recipe that has become a regular around here.
Garbanzo Bean Salad
Fill up on this high protein, high fiber salad before a meal, and you'll be able to keep your portion sizes in check. Filling, satisfying, and wonderfully flavorful, this sale comes together in just minutes.
Ingredients
2 15oz can garbanzo beans, drained and rinsed
1 small red onion, diced
1 pint cherry tomatoes, halved
1 tbsp olive oil
1/4 cup parsley, finely chopped
2 tbsp fresh mint, finely chopped
1 garlic clove, minced
Juice from 2 medium sized lemons
Salt & pepper to taste
Instructions
In a medium sized bowl, toss together the garbanzo beans, onion, tomatoes, parsley and mint.
In s small bowl, whisk together the olive oil, lemon juice, garlic, and salt & pepper. Pour over the salad. Toss well to coat, and season with additional salt & pepper as desired.
Preparation time: 10 minute(s)
Cooking time:
Diet type: Vegan
Diet tags: Low calorie, Reduced fat, High protein
Number of servings (yield): 8
Culinary tradition: Middle Eastern
Calories: 126
Fat: 3.5g
Protein: 5.5g
Entire recipe makes 8 servings
Serving size is 1/2 cup
Each serving = 3 Smart Points/3 Points
PER SERVING: 126.62calories; 3.96g fat; 0.46g saturated fat; 18.63g carbohydrate; 0.39g sugar; 5.85g protein; 5.48g fiber