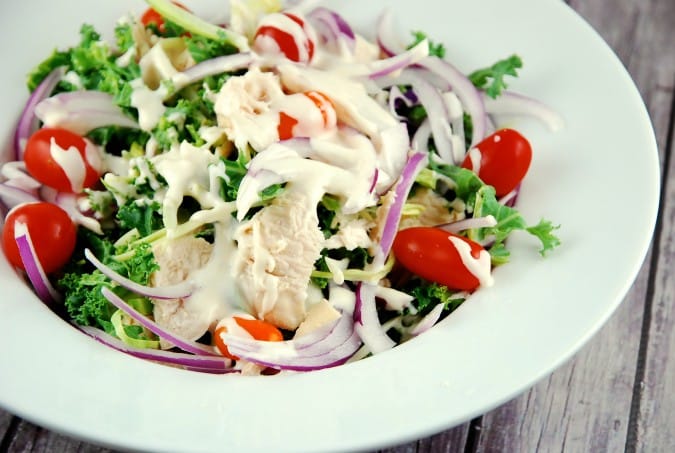 This Tahini Chicken Salad Recipe has quickly topped my list of favorite salads. I probably eat this salad three times a week for lunch, and I never tire of it. The texture of the fresh crunchy cabbage, kale and shredded broccoli stems topped with a creamy tahini sauce is absolute perfection! Early in the week or on Sunday night, I just chop up the crunchy and delicious greens and keep them in a tupperware container in the fridge. This way, I've got them ready to go, and just need to toss in some chicken (which I usually have from dinner leftovers) and the dressing. When I'm feeling particularly lazy, I buy a bag of Trader Joe's Cruciferous Crunch salad mix and use that instead. Super easy. But the real star of this dish is the insanely delicious tahini sauce. I just buy the pre made kind (from Trader Joe's) and thin it out a bit with lemon juice and water. I am ADDICTED to it! This is a really versatile Weight Watchers salad recipe too…you can use salmon or shrimp instead of the chicken, and/or add in any other veggies you like. Enjoy!
Tahini Chicken Salad
Crunchy, incredibly flavorful, and loaded with antioxidants, this tasty salad makes a fantastic Weight Watchers lunch recipe. It's also full of fiber and protein, so it helps to keep you feeling very satisfied.
Ingredients
1 lb cooked chicken breast, chopped
2 cups kale, finely chopped
1 cups red cabbage, shredded
2 cups broccoli slaw
1 1/2 cups cherry tomatoes
1 medium red onion, thinly sliced
1/2 cup prepared tahini sauce (I used the one from Trader Joe's)
Juice from 1 small lemon
Instructions
In a large bowl, combine all vegetables and toss well.
Top salad with chicken breast.
Place tahini sauce and lemon juice in a small bowl, mix well, and add water teaspoon by teaspoon to thin out to desired consistency. Pour over salad and serve.
Preparation time: 15 minute(s)
Cooking time:
Diet tags: Low calorie, Reduced fat, Reduced carbohydrate, High protein
Number of servings (yield): 4
Culinary tradition: USA (General)
Calories: 266
Fat: 9.5g
Protein: 28.5g
Entire recipe makes 4 servings
Serving size is about 1 1/2 cups
Each serving = 7 Smart Points/6 Points
PER SERVING: 266 calories; 9.5g fat; 2.21g saturated fat; 13.5g carbohydrate; 1.65g sugar; 12.93g protein; 6.37g fiber