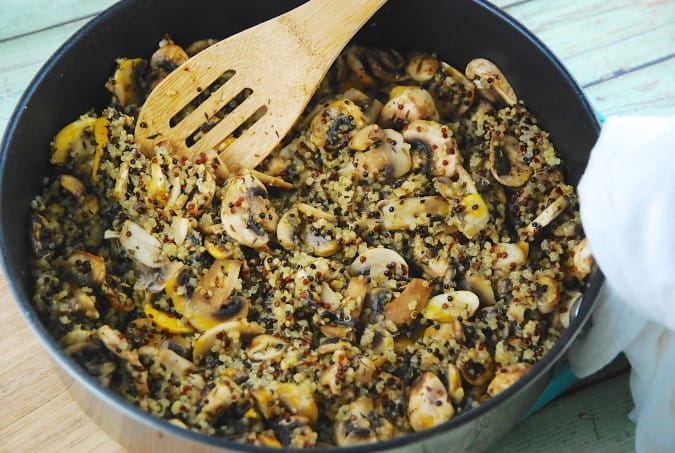 I have always adored mushrooms. Even as a young kid, believe it or not. Though back then, the only time I really ate them was on top of pizza. But now, as an adult, my affection for mushrooms have blossomed, and I have found many ways to incorporate them into a variety of Weight Watchers Recipes. One great dish I often make, is this super tasty Mushroom & Quinoa Sauté. It takes such minimal effort, but delivers such a delicious side dish. The earthy flavors of the mushrooms and quinoa are brightened by the garlic, onion, and thyme. One thing I like to do is to cook my quinoa in chicken broth instead of water, or add a bouillon cube to the cooking water for added flavor. And for just 5 Points, you get a filling and healthy side dish that tastes fantastic!
Mushroom & Quinoa Sauté
Hearty, earthy, and delicately flavored, this mushroom and quinoa dish is one of my favorite Weight Watchers side dish recipes. Simple to throw together, delicious to eat, and all the fiber and protein makes it a very filling side.
Ingredients
1 cup quinoa, rinsed
1lb mushrooms, sliced
1 small onion, finely diced
1 tbsp light butter
4-5 garlic cloves, minced
1 tsp dried thyme
Salt & pepper to taste
Instructions
Cook quinoa according to package instructions; set aside.
Melt butter in a large skillet over medium high heat. Add in onion, garlic, mushrooms, and thyme and sauté until tender, about 5 minutes.
Stir in cooked quinoa, and season with salt and pepper as desired.
Preparation time: 15 minute(s)
Cooking time: 15 minute(s)
Diet type: Vegetarian
Diet tags: Low calorie, Reduced fat, High protein
Number of servings (yield): 4
Culinary tradition: USA (General)
Calories: 199
Fat: 4g
Protein: 10g
Entire recipe makes 4 servings
Serving size is 1 1/4 cups
Each serving = 6 Smart Points/5 Points
PER SERVING: 216.47calories; 4.97g fat; 1.58g saturated fat; 35.03g carbohydrate; 3.58g sugar; 10.18g protein; 4.82g fiber