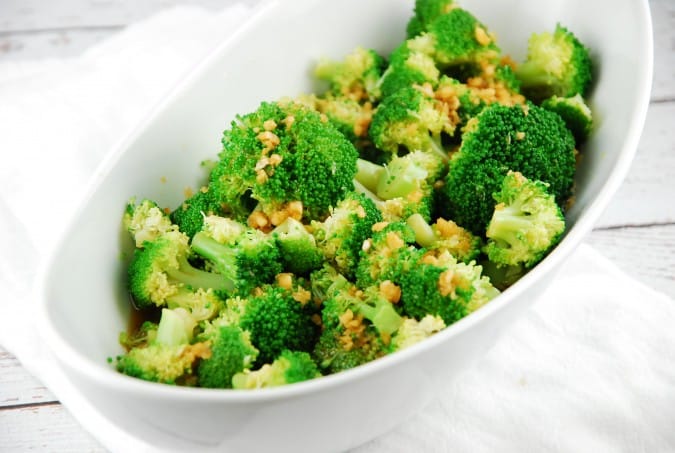 I'm all about broccoli lately….I seriously just can't get enough of it. And so I'm always looking for new ways to prepare it so that I won't get bored. This Tangy Garlic Broccoli Recipe is not only incredibly easy, but delicious! The ingredients come together beautifully to give one serious kick of flavor to basic steamed broccoli, and the end result is a fantastic Weight Watches Side Dish Recipe that's just 1 Point per serving.
Tangy Garlic Broccoli
Bold, Asian-style flavors give steamed broccoli a tremendous flavor boost without adding too much extra fat and calories. This tangy and flavorful vegetable side dish recipe is a perfect way to kick up a basic veggie!
Ingredients
1lb fresh broccoli florets
1 tsp toasted sesame oil
5 cloves garlic, minced
1/4 cup reduced sodium soy sauce
1 tbsp rice vinegar
1 tbsp honey
Juice from 1 lime
Instructions
In a small bowl, whisk together the soy sauce, sesame oil, vinegar, lime juice, honey and garlic.
Steam broccoli until tender and bright green. Pour sauce over broccoli while it is still hot. Toss well to coat.
Preparation time: 5 minute(s)
Cooking time: 10 minute(s)
Diet type: Vegan
Diet tags: Low calorie, Reduced fat, Reduced carbohydrate
Number of servings (yield): 4
Culinary tradition: USA (General)
Calories: 65
Fat: 1g
Protein: 3g
Entire recipe makes 4 servings
Serving size is about 1 cup
Each serving = 3 Smart Points/1 Point
PER SERVING: 73.29calories; 1.6g fat; 0.23g saturated fat; 14.6g carbohydrate; 6.3g sugar; 4.49g protein; 2.66g fiber