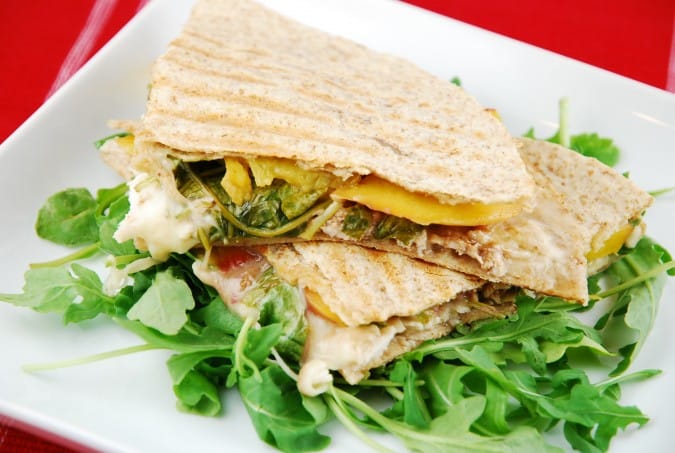 This uniquely delicious Weight Watchers quesadilla recipe brings a whole new dimension of flavor for just 5 Points. Using a high fiber, low carb flour tortilla as the base, I topped it with chicken breast, fresh arugula, sweet peach slices, and mozzarella & gorgonzola cheeses. Then, it's drizzled with the balsamic glaze, capped off with another tortilla, and toasted to perfection. The mildly pungent gorgonzola cheese is the perfect complement to the peppery arugula and fresh, sweet peach slices. And the tart balsamic glaze ties it all in together. This is a wonderful summer Weight Watchers Recipe for those days when you are craving something warm and comforting, but still light. Enjoy!
Peach, Chicken and Gorgonzola Quesadillas
Absolutely insatiable, this unique twist on a standard quesadilla will have you jumping for joy. Made with sweet peach slices, peppery arugula and creamy gorgonzola cheese, each bite is bursting with tremendous flavor.
Ingredients
4 whole wheat, high fiber flour tortillas (I used THESE)
2/3 cup cooked chicken breast, shredded
1 peach, thinly sliced
1/4 cup gorgonzola crumbles
1/4 cup reduced fat, shredded mozzarella
1/2 cup arugula leaves
1 tbsp balsamic glaze
Instructions
Lay tortillas flat, and top each with 2 tbsp shredded mozzarella, 1/3 cup chicken, 1/2 of the peach slices, 2 tbsp gorgonzola, 1/4 cup arugula leaves, and 1/2 tbsp balsamic glaze. Top with another tortilla.
Place in panini press or toaster oven until both tortillas are golden brown and cheese is melted.
Cut each quesadilla into 4 triangles/wedges and serve.
Preparation time: 10 minute(s)
Cooking time: 5 minute(s)
Diet tags: Low calorie, Reduced fat, Reduced carbohydrate, High protein
Number of servings (yield): 4
Culinary tradition: USA (Nouveau)
Calories: 191
Fat: 8.5g
Protein: 18g
Entire recipe makes 4 servings
Serving size is two wedges
Each serving = 6 Smart Points/5 Points
PER SERVING: 191calories; 8.5g fat; 3.34g saturated fat; 23g carbohydrate; 5.26g sugar; 18g protein; 12.5g fiber