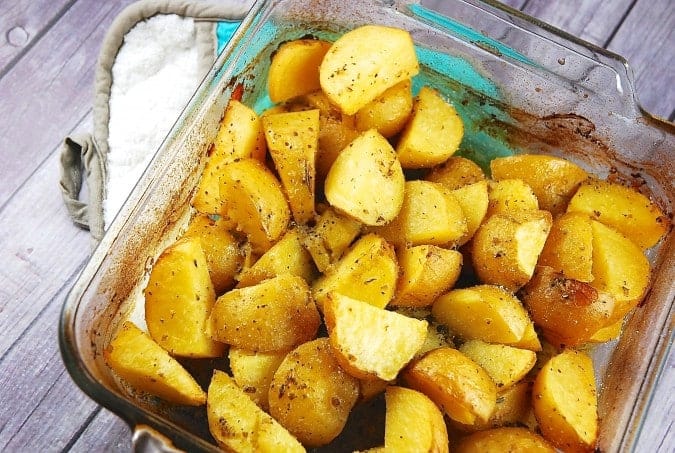 A simple and light side dish recipe that packs quite a punch are these delicious Greek Roasted Lemon Potatoes. The amazing bright lemon flavor is accentuated with garlic and oregano to give it a hint of Greek flair. This takes just minutes to prepare and goes well with just about anything, so it's become a staple around here! This Weight Watchers potato recipe was a huge hit with the whole family, and each serving is just 4 Points. If you don't mind an extra Point, try adding a tbsp of reduced fat feta cheese crumbles to each serving – it's incredibly good. This makes for a perfect, hearty side dish that still feels light and flavorful. Enjoy!
Greek Roasted Lemon Potatoes
With a slight crunch on the outside, and a soft pillowy inside, these tender and delicious potatoes are roasted with oregano, garlic and fresh lemon juice to deliver a fantastic Greek flavor.
Ingredients
1lb red potatoes, unpeeled and cut into chunks
4 garlic cloves, minced
1/2 tbsp dried oregano
2 tbsp olive oil
1/3 cup chicken broth or water (if you want to keep it Vegan)
Juice from 1 large lemon
Salt and pepper to taste
Instructions
Preheat oven to 450 degrees. Mist a small baking dish with olive oil or a nonfat cooking spray.
In a medium sized bowl, combine all ingredients. Pour into baking dish, place in oven, and cook until potatoes are tender (about 35-40 minutes), stirring once or twice through out cooking.
Preparation time: 10 minute(s)
Cooking time: 40 minute(s)
Diet type: Vegan
Diet tags: Low calorie, Reduced fat, Gluten free
Number of servings (yield): 4
Culinary tradition: Greek
Calories: 142
Fat: 7g
Protein: 2g
Entire recipe makes 4 servings
Serving size is about 1 cup
Each serving = 5 Smart Points/4 Points
PER SERVING: 161.67calories; 7.04g fat; 1g saturated fat; 22.86g carbohydrate; 0.48g sugar; 3.04g protein; 2.16g fiber