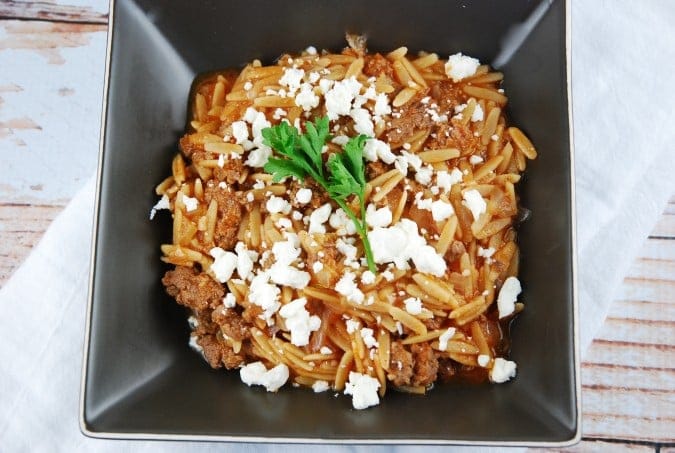 This incredibly satisfying and hearty Weight Watchers dinner recipe, is perfect to warm you up on a chilly fall evening. The tender and juicy ground beef is wonderfully seasoned, uniquely including a hint of cinnamon, and is served with whole wheat orzo and a delicious tomato sauce. Adding the feta crumbles on top also gives this dish a deliciously distinctive flair, adding a bit of salty savory-ness to the slightly sweet flavor of the sauce and beef. It cooks quickly and easily, and goes great when paired with a light salad and/or fresh roasted vegetables. 8 Points is a great bargain for this ground beef recipe, considering how filling it is! Enjoy.
Beef Orzo Recipe with Feta
A blend of wonderful flavors and a hint of cinnamon come together with tender, juicy ground beef and whole wheat orzo to create a lovely, and savory dish. The salty feta topping helps to create a unique flavor profile without being overwhelming.
Ingredients
1 lb extra lean ground beef (96/4)
10 oz whole wheat orzo
1 large onion, finely chopped
4 cloves garlic, minced
1 tsp ground cinnamon
2 tsp dried oregano
1 26oz can crushed tomatoes
1/3 cup reduced fat feta cheese, crumbled
Salt & pepper to taste
Instructions
Prepare orzo according to package directions. Drain and set aside.
While orzo is cooking, spray a large skillet with nonfat cooking spray, and set over medium high heat. Add in beef and cook until mostly cooked through.
Add in onions, garlic, oregano, cinnamon and salt & pepper. Sauté until onions are tender and beef is cooked all the way through.
Pour tomatoes into skillet with the beef mixture, and cook, and turn heat to medium. Continue to cook, while stirring occasionally, until mixture has thickened, about 15 minutes.
Toss beef sauce with orzo and place into serving bowls. Top each bowl with 1 tbsp of feta.
Preparation time: 10 minute(s)
Cooking time: 25 minute(s)
Diet tags: Low calorie, Reduced fat, High protein
Number of servings (yield): 6
Culinary tradition: Middle Eastern
Calories: 325
Fat: 5.5g
Protein: 25g
Entire recipe makes 6 servings
Serving size is about 1 1/4 cups
Each serving = 9 Smart Points/8 Points
PER SERVING: 325 calories; 5.5g fat; 2g saturated fat; 44g carbohydrates; 5.5g sugar; 25g protein; 3.5g fiber