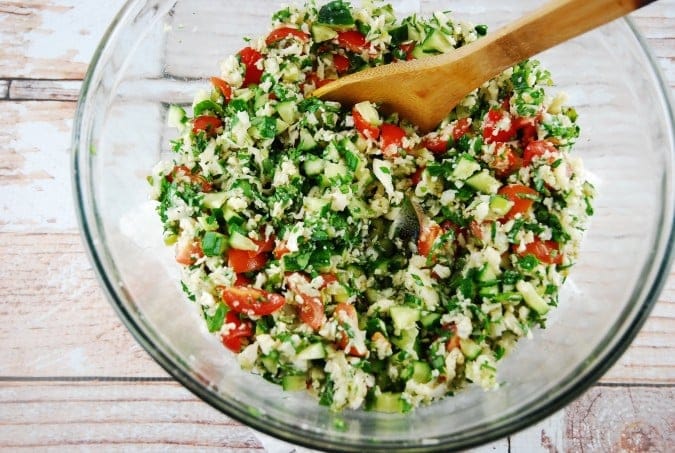 If you've ever had tabbouleh salad before, you know how delicious it is. But the fact that it's traditionally made with bulgar (a grain), the Points can really rack up quickly due to the high amount of carbohydrates. By simply replacing the bulgar with grated cauliflower instead, you get a dish that tastes ridiculously similar to traditional tabbouleh, but for just 4 Points per serving. Its light and refreshing flavor makes this side salad a wonderful accompaniment to your favorite meal. And it's slam packed with vegetables, so you get a nice healthy dose of those, too. Now, some people may argue the Points value on this Weight Watchers recipe, due to the fact that except for the olive oil, everything else is 0 Points when eaten alone. However, my Weight Watchers leader said that when you combine all the vegetables together in a recipe like this, it changes the structure and can therefore raise the Points value. So, what I did here was calculate all the nutritional information for each ingredient, and added it all together. Then entered it into my Weight Watchers Points Calculator, and came up with 4 Points per serving. If you are counting just the olive oil, it's 2 Points per serving. Either way, it's a great bargain and absolutely delicious side salad recipe. This is a MUST try, folks!
Low Carb Cauliflower Tabbouleh
Light, fresh, and flavorful, this traditional tabbouleh recipe replaces the high-carb grains with low carb cauliflower, making it lower in Weight Watchers Points, but still delicious.
Ingredients
1 large head of cauliflower
1 pint of cherry tomatoes, quartered
4 Persian cucumbers, finely diced
1 1/2 cups fresh parsley, finely chopped
1 cup cilantro, finely chopped
1/2 cup fresh mint, finely chopped
4 green onions, finely chopped
1/4 cup olive oil
Juice from 2 medium sized lemons
Salt and pepper to taste
Instructions
Using a food processor or grater, grate the cauliflower finely until it resembles rice. (The cauliflower crumbles very easily and this is really easy to do with a traditional grater if you don't have a food processor).
Combine grated cauliflower and remaining ingredients in a large bowl. Toss until well combined and season with salt and pepper as desired.
Refrigerate for 30-45 minutes before serving. Mix again well before serving.
Preparation time: 15 minute(s)
Cooking time:
Diet type: Vegan
Diet tags: Low calorie, Reduced fat, Reduced carbohydrate, Gluten free, Raw
Number of servings (yield): 6
Culinary tradition: Middle Eastern
Calories: 149
Fat: 9g
Protein: 4g
Entire recipe makes 6 servings
Serving size is 3/4 cup
Each serving = 4 Points
PER SERVING: 149 calories; 9g fat; 14g carbohydrates; 4g protein; 6g fiber