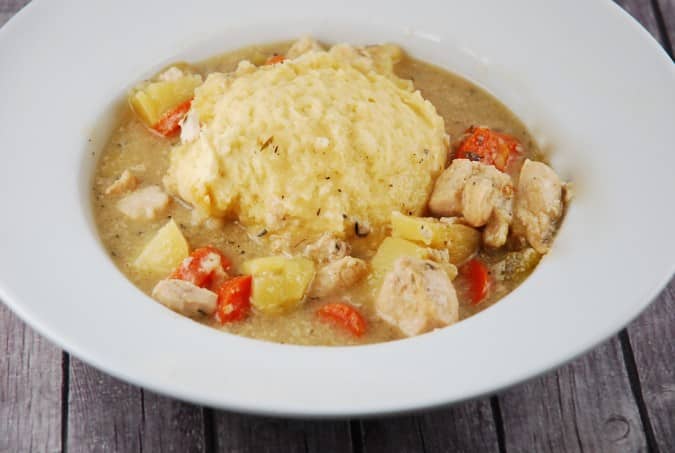 With the heat wave finally starting to come to an end here in Southern California, I'm really getting into the swing of fall cooking! One of my family's favorite dishes is this Crock Pot Chicken and Dumplings Recipe. It is SO ridiculously delicious and SO filling and satisfying. You can feel free to experiment and add other veggies if you'd like. Sometimes, I make it without the potatoes, and that shaves an extra Point off. But those moist, thick, fluffy dumplings are just heavenly, and are the true star of this popular comfort food recipe. Perfect for a chilly day, this tasty Crock Pot Chicken and Dumplings is sure to become a family favorite of yours too! Enjoy.
Crock Pot Chicken and Dumplings
Hearty, incredibly filling, and absolutely delicious, this Weight Watchers Chicken and Dumplings dish is the ultimate in guilt free comfort food! Perfect for a chilly autumn or winter's day.
Ingredients
1lb skinless, boneless chicken breast, diced
2 medium Yukon gold potatoes, diced
2 large carrots, diced
2 large celery stalks, diced
2 cups reduced fat all-purpose baking mix (like Bisquick)
2/3 cup reduced fat milk
2 tsp dried thyme
2 tsp onion powder
1 chicken bouillon cube
2 cups fat free chicken broth
1 10.75oz can Campbell's Condensed 98% Fat Free Cream of Chicken Soup
Salt & pepper to taste
Instructions
Place the chicken, potatoes, carrots, celery and bouillon cube in a slow cooker. Season with black pepper.
In a medium sized bowl, combine cream of chicken soup, broth, onion powder, and dried thyme.
Pour mixture over the chicken and vegetables. Cover and cook on low for about 6 hours, or until chicken is fully cooked.
In a large bowl, mix together the baking mix and milk. Spoon the batter into 6 blobs on top of the chicken mixture. Turn the heat up to high, and cover, but tilt the lid to vent the steam. Cook for about 30-40 minutes, or until the dumplings are cooked through and no longer wet in the middle (you can test by piercing with a toothpick).
Preparation time: 15 minute(s)
Cooking time: 6 hour(s) 30 minute(s)
Diet tags: Reduced fat, High protein
Number of servings (yield): 6
Culinary tradition: USA (Traditional)
Calories: 321
Fat: 5g
Protein: 21g
Entire recipe makes 6 servings
Serving size is 1 dumpling with 1/6th of soup
Each serving = 8 Points
PER SERVING: 321 calories; 5g fat; 43g carbohydrates; 21g protein; 3.5g fiber