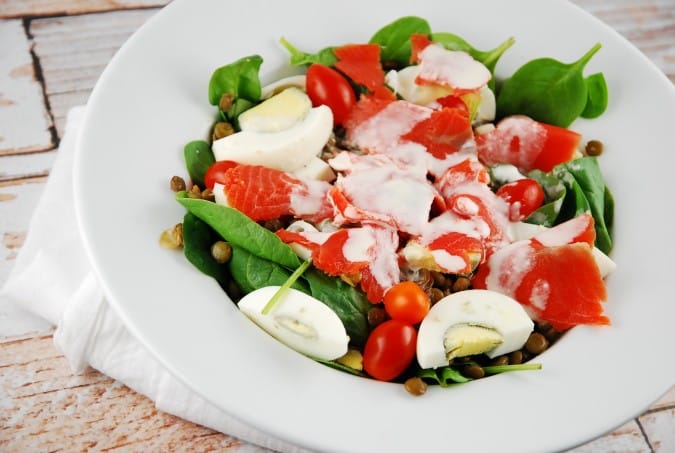 When I'm craving a salad that's not only delicious and bursting with flavors, but also hearty, very satisfying, and extremely nutritious, I turn to this Smoked Salmon and Lentil Salad. I usually always keep a few hardboiled eggs in the fridge, and with minimal prep, this salad can be put together quickly and easily. Loaded with protein, fiber and Omega-3's, this salad is great for a heart healthy lunch idea! You can use leftover cooked salmon with this too, if you prefer, but I love to treat myself to some smoked salmon on occasion. And it works especially well with the tahini sauce in this dish. I also like to thin out the tahini sauce with some water and/or lemon juice, as the Trader Joe's one I use is really thick. At just 7 Points for the whole, huge salad, this Weight Watchers Recipe is sure to become a favorite of yours, too.
Smoked Salmon and Lentil Salad
Chock full of fiber, protein and Omega-3 fatty acids, this filling and flavorful salad is one seriously healthy meal. Not only is it incredibly delicious, but you can throw it together quickly and easily too.
Ingredients
2 cups fresh baby spinach leaves
2 oz wild caught smoked salmon
1/4 cup cooked lentils
1 hard boiled egg, cut into wedges
1/4 cup cherry tomatoes
2 tbsp prepared tahini sauce (I used Trader Joe's brand)
Squirt of fresh lemon juice
Instructions
Place spinach in a bowl or large plate, and top with remaining ingredients, and squeeze lemon juice over everything.
Preparation time: 10 minute(s)
Cooking time:
Diet type: Pescatarian
Diet tags: Low calorie, Reduced carbohydrate, High protein
Number of servings (yield): 1
Culinary tradition: Middle Eastern
Calories: 322
Fat: 16g
Protein: 25g
Entire recipe makes 1 serving
Serving size is 1 large salad
Each serving = 7 Points
PER SERVING: 322 calories; 16g fat; 15g carbohydrates; 25g protein; 8g fiber