No need to skip dessert this Thanksgiving….just try this healthier, low calorie Pumpkin Pie recipe instead.
By making a few small tweaks to my mom's traditional Thanksgiving Pumpkin Pie, and switching out the high fat crust for a delicious whole wheat version, I was able to make this amazing Weight Watchers Pumpkin pie that is delicious, lovely!
Other versions of light pumpkin pie recipes that I've seen, suggest going crustless, or, thinning out your crust as much as possible in order to lower that Points value. My response to that? NO WAY!!! I loooooove pie crust. And I'm not about to sacrifice it.
But I am usually pretty overwhelmed around the holidays, so I like to keep things as simple as possible. That means I sometimes buy a pre-made pie crust. No shame in my game, folks. I LOVE the Organic Whole Wheat Pie Crust from Wholly Wholesome….it tastes amazing and you'd never know it's healthier. This is usually my go to pre-made pie crust.
But in this recipe, a couple of simple ingredients, and a few extra minutes of time, and you get a delicious, homemade pie crust that is oh so yummy!!!
So don't pass on the pumpkin pie this year, just serve up this Low Points Pumpkin Pie Recipe, and enjoy the guilt free indulgence. Happy Thanksgiving!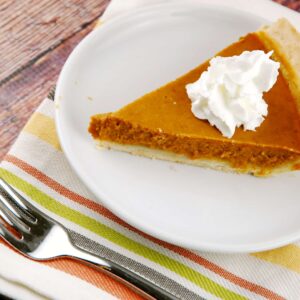 Low Calorie Pumpkin Pie Recipe
No holiday would be complete without a slice of homemade pumpkin pie! This lighter version is just as decadent as you want it to be, with less fat and calories.
Ingredients
For the crust:
4

oz

reduced-fat cinnamon graham crackers

2

tbsp

light butter

-

(melted)

1

tsp

water

¼

tsp

salt
For the pie filling:
1 ¼

cup

canned pumpkin

2

large egg whites

1

large egg

2

tsp

pumpkin pie spice

½

cup

dark brown sugar

¼

tsp

table salt

½

cup

fat-free evaporated milk
Instructions
Preheat oven to 350 degrees.

In a food processor, process graham crackers into fine crumbs.

In a small bowl, combine the crumbs, the melted butter, salt, and water, and mix with hands.

Then transfer to an un-greased 9" pie pan, and distribute crust mixture evenly, pressing it against the pan with your hands.

Put in the fridge and chill for 40 minutes.

Then, bake about 8-10 minutes, or until the pie crust starts to turn that yummy golden brown.

In a large bowl, whip egg whites into a soft peak, using an electric mixer.

Fold in remaining ingredients. Beat the mixture until smooth, creamy and lump free, and pour into your pie shell.

Bake for about 45-50 minutes, or until a knife inserted in the center comes out clean.

Let cool for 5-10 minutes. Cut into 8 even slices and top with a nice dollop of the Fat Free Whipped Cream*

*optional
Notes
The total servings per recipe is 8
The serving size is 1 slice
Nutrition
Calories:
168
kcal
(8%)
Carbohydrates:
25
g
(8%)
Protein:
4.2
g
(8%)
Fat:
6.5
g
(10%)
Saturated Fat:
3.1
g
(19%)
Cholesterol:
35
mg
(12%)
Sodium:
279
mg
(12%)
Potassium:
194
mg
(6%)
Fiber:
1.6
g
(7%)
Sugar:
15.4
g
(17%)
Calcium:
50
mg
(5%)
Iron:
1.3
mg
(7%)