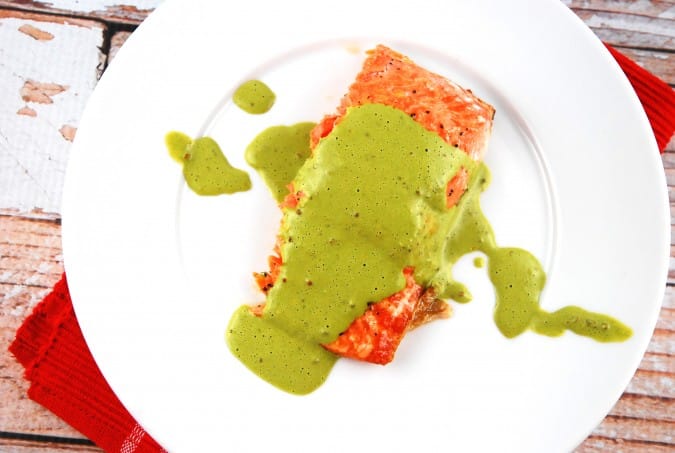 I am always looking to get more fish into my diet, but quite honestly, I often don't like the actual taste of fish. If you've been following my blog long enough, you may have heard me mention before that I almost always try to prepare the fish with some type of bold sauce or flavor paying so as to distract from the fishy taste of the fish. In this Roasted Salmon with Basil Mint Sauce Recipe, the decadent sauce does just that. It's fresh, tangy, slightly creamy, and absolutely perfect on top of the salmon. I actually got this idea at a favorite local restaurant, and tried my best to create a similar, more healthy version. At just 7 Points, this Weight Watchers Salmon recipe offers a great way to eat a healthy fish dish, with zero guilt. Pair with some roasted vegetables or low Points soup for a complete meal. Enjoy!
Roasted Salmon with Basil Mint Sauce
Delicious, tender roasted salmon topped with a tangy and flavorful sauce that is sure to make your mouth water. The wonderfully flavorful sauce adds a 5 star restaurant pizzaz to the simply prepared salmon fillet.
Ingredients
1 lbs salmon cut into 4 fillets
1/2 cup fresh basil leaves
1/4 cup fresh mint leaves
1/4 cup olive oil
1 tsp dijon mustard
1 tbsp low fat mayonnaise (I used Vegenaise)
2 tbsp plain, nonfat Greek yogurt
Juice of 1 lemon
Salt and pepper to taste
Instructions
Using a small blender or hand blender, combine the basil leaves, mint leaves and olive oil, and let rest for about 10-15 minutes. Then, whisk together the mustard, yogurt, and mayo until smooth. Now stir in the basil, mint and olive oil mixture, the lemon juice and zest. Whisk until well combined. Cover and refrigerate until ready to use.
Preheat oven to 425 degrees. Line a rimmed baking sheet with parchment paper, and mist with nonfat cooking spray or an olive oil mister. Pace salmon fillets on baking sheet and mist with olive. Season fillets with salt and pepper. Place in oven and roast for about 8-12 minutes or until salmon is cooked through.
Plate each fillet of salmon, and top with the basil mint sauce.
Preparation time: 15 minute(s)
Cooking time: 10 minute(s)
Diet type: Pescatarian
Diet tags: Low calorie, Reduced fat, Reduced carbohydrate, High protein, Gluten free
Number of servings (yield): 4
Culinary tradition: USA (General)
Calories: 305
Fat: 20g
Protein: 24.5g
Entire recipe makes 4 servings
Serving size is 1 fillet with about 2 tbsp sauce
Each serving = 8 Smart Points/7 Points
PER SERVING: 305 calories; 20g fat; 3g saturated fat; 1g carbohydrates; .9g sugar; 24.5g protein; 0g fiber