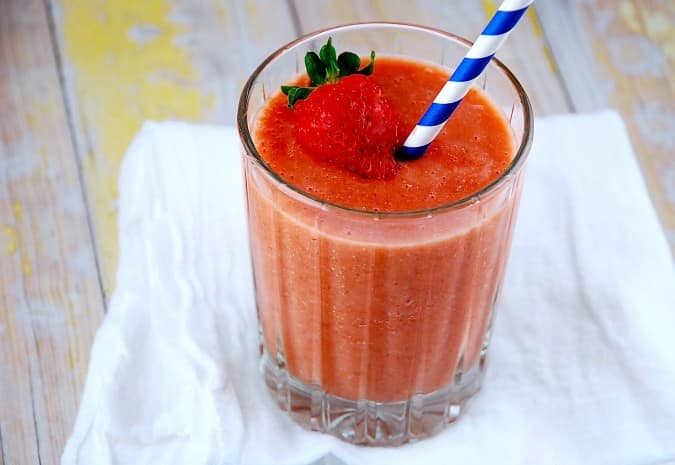 Get a healthy dose of the tropics with this light and easy Tropical Strawberry Smoothie Recipe! I absolutely love this flavor combination, and each serving boasts a tremendous dose of vitamin C and potassium. With no added sugar, and all natural ingredients this smoothie makes a great idea for a healthy breakfast or snack on the go. My kids love this smoothie just as much as I do! I usually prefer to use mostly frozen fruits in this, just because it's easy, and so I don't have to add ice to make it cold. Fresh works great too, so no worries if that's what you've got on hand. Each serving comes out to just 2 Points, so you can indulge in a fabulous tasting smoothie without feeling any guilt.
Tropical Strawberry Smoothie
Cool and refreshing, this healthy smoothie has all the flavors of the tropics, but with zero guilt. Loaded with vitamin C, it's a great cold buster too!
Ingredients
2 cups strawberries
1 cup mango
1 orange, peeled
1 cup pineapple, diced
1 banana
3 dates
1 1/2 cups coconut water
Instructions
Blend all ingredients in a blender, and process until smooth. Add additional coconut water, ice, or water to reach desired consistency.
Preparation time: 5 minute(s)
Cooking time:
Diet type: Vegan
Diet tags: Low calorie, Reduced fat, Gluten free, Raw
Number of servings (yield): 6
Culinary tradition: USA (General)
Calories: 89
Fat: 0g
Protein: 1g
Entire recipe makes 6 servings
Serving size is 1 cup
Each serving = 3 Smart Points/2 Points
PER SERVING: 89 calories; 0g fat; 0g saturated fat; 24g carbohydrates; 1g sugar; 1g protein; 3g fiber