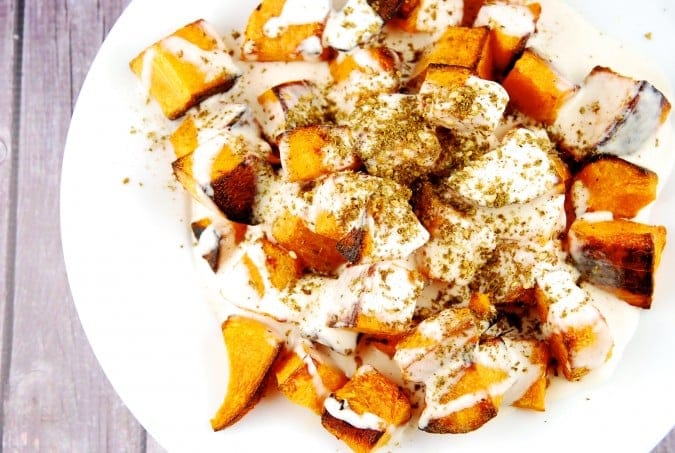 Liven up a standard Roasted Butternut Squash Recipe with the addition of two wonderfully bold flavors – tahini sauce and za'atar spice blend. In this Weight Watchers side dish recipe, the sweet, buttery squash is complemented by the roasted sesame flavor of the tahini sauce and the alluring spice mixture of the zaatar. If you haven't ever tried za'atar before, once you do, I guarantee it will become one of your pantry staples! It's a Middle Eastern spice blend that involves some combination of ground dried oregano, thyme or marjoram, ground sumac, toasted sesame seeds and often, salt. It's often used on breads, chicken, and on top of hummus or soft cheeses. Zaatar has an amazing and unique flavor that is aromatic, and tangy at the same time. This simple, yet amazing side dish is not only delicious and full of nutrients, each serving is just 4 Points, making it a very Weight Watchers friendly recipe too.
Roasted Butternut Squash with Tahini and Za'atar
You are sure to get a mouthful of Middle Eastern flavor with this incredible vegetable side dish recipe. The sweet, roasted squash is topped with a tangy and bold tahini and then sprinkled with the wonderfully unique za'atar spice.
Ingredients
1 medium butternut squash, peeled, seeded and diced
1 tbsp olive oil
1/4 cup prepared tahini sauce (like Trader Joe's version)
Juice from 1/2 a lemon
1 tbsp water
1 tbsp zaatar seasoning
Salt to taste
Instructions
Preheat oven to 400 degrees.
In a large bowl, toss butternut squash with the olive oil to coat evenly. Place squash onto baking sheet and season with salt. Cook in oven for about 25-30 minutes or until squash is tender and lightly browned.
In a small bowl, mix together the tahini sauce, lemon juice and water. (This step is done only to thin out the consistency of the tahini sauce. I use Trader Joe's Tahini Sauce, which is quite thick. If the sauce you use is already thin, then this step can be skipped.)
Place squash in serving bowl, and drizzle with tahini sauce. Then sprinkle the za'atar seasoning over top.
Preparation time: 15 minute(s)
Cooking time: 30 minute(s)
Diet type: Vegan
Diet tags: Low calorie, Reduced fat, Reduced carbohydrate, Gluten free
Dietary restriction: Kosher
Number of servings (yield): 4
Culinary tradition: Middle Eastern
Calories: 154
Fat: 7.5g
Protein: 3g
Entire recipe makes 4 servings
Serving size is about 1 cup
Each serving = 5 Smart Points/4 Points
PER SERVING: 154 calories; 7.5g fat; 1.5g saturated fat; 21g carbohydrates; 2.7g sugar; 3g protein; 4g fiber