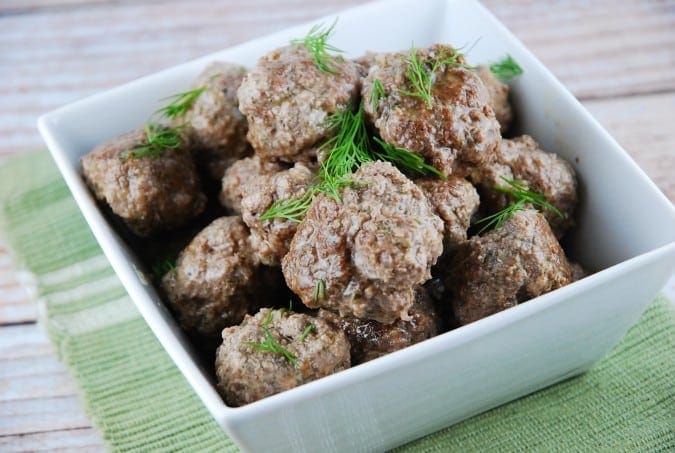 A good variation to meatloaf are these tasty Ranch Meatballs! Easy to make and always a crowd pleaser, you can enjoy them in a variety of ways: as is, in a sandwich, with pasta and sauce, on top of salads, in soups, in a pita pocket with salad and tahini sauce…I could go on on. I like to make 2 or 3 batches of them, and freeze them so I have something quick and delicious on hand for when I need a dinner or lunch STAT. My kids love them too, which is great for the evenings where I'm serving a dinner that they don't like, and I need a healthy alternative for them. They are super tasty and the best part is that you get 6 meatballs for just 5 Points! They key here is using extra lean ground beef – it should be 96% lean and 4% fat – so make sure that's the one you get if you want to keep this at just 5 Weight Watchers Points. Enjoy!
Ranch Meatballs
Tender, juicy, wonderfully seasoned meatballs are a perfect, yet simple Weight Watchers dinner recipe for those who savor flavor, but are watching Points.
Ingredients
1 lb extra lean ground beef (96/4)
1/3 cup Panko breadcrumbs
1/4 cup liquid egg substitute (like EggBeaters)
1 tsp olive oil
1 tbsp onion powder
1 tbsp garlic powder
2 tsp dried dill
2 tsp dried parsley
2 tsp dried basil
Salt and pepper to taste
Instructions
In a large bowl combine all ingredients by hand. Shape into about 24 meatballs.
Heat oil in a large non-stick skillet over medium high heat.
Place meatballs in pan, and cook about 1-2 minutes on each side, until all sides are lightly browed.
Reduce heat to medium-low, and pour in a 1/2 cup water. Cover and cook, stirring occasionally, until meatballs are cooked through, about 10-12 minutes.
Preparation time: 10 minute(s)
Cooking time: 20 minute(s)
Diet tags: Low calorie, Reduced fat, Reduced carbohydrate, High protein
Number of servings (yield): 4
Culinary tradition: USA (General)
Calories: 195
Fat: 6g
Protein: 26g
Entire recipe makes 4 servings
Serving size is 6 meatballs
Each serving = 4 Smart Points/5 Points
PER SERVING: 195 calories; 6g fat; 2.9g saturated fat; 6g carbohydrates; .9g sugar; 26g protein; 0g fiber